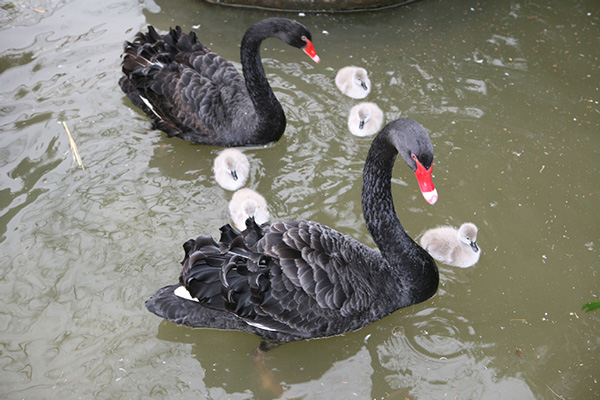 A family of black swans live in Wuhan Zoo. GONG BO/FOR CHINA DAILY
Animals lacking food in Wuhan Zoo in Wuhan, Hubei province-center of the novel coronavirus outbreak-have had their troubles solved thanks to joint efforts from solicitous people nationwide.
The zoo said the supply of food, mainly for those animals living on aquatic products, has stabilized since it released an emergency call for help.
According to a notice released on the zoo's Weibo account on Feb 1, aquatic products for some birds, such as penguins, cranes and pelicans, were in severe shortage.
Due to controls on logistics to prevent the coronavirus from spreading in Wuhan, the zoo encountered problems purchasing food.
Currently, the province only granted highway certificates to freight cars with food, medical supplies and other materials that guarantee the city's water and power supply, according to Shi Jun, general secretary of Wuhan Logistics Association.
Without special permission, he said, livestock, poultry and other live animals are not allowed to be transported across cities in the province.
Several aquatic animals were in severe need of feed. Mudfish was needed for cranes, crucian for capelins and small yellow croakers for penguins. "Frozen fish is acceptable for penguins," Hua Shi, a local science writer in Wuhan, told Sanlian Life Weekly in a recent interview. "Apart from mudfish, cranes also like other fresh water fish and they can even have some cereal. However, capelins only eat small live crucian."
He said bird keepers in the zoo had tried to feed capelins with blackfish, but they refused to eat it.
"Fresh fish, especially the small crucian, usually come from fishermen in nearby cities or towns. The temporary traffic controls posed great challenges to the transportation between cities in the province," he said.
Only a few hours after it released the notice, the zoo's management hotline received lots of calls from people nationwide who wanted to help. On Saturday afternoon, the zoo announced that some local citizens had already sent food to the zoo. Freshhema, a popular supermarket, also gave a helping hand.
As of Sunday afternoon, 100 kilograms of mudfish from Freshhema had arrived at Wuhan Zoo and another 250 kg of crucian, mainly for pelicans, will be sent to the zoo within a few days.