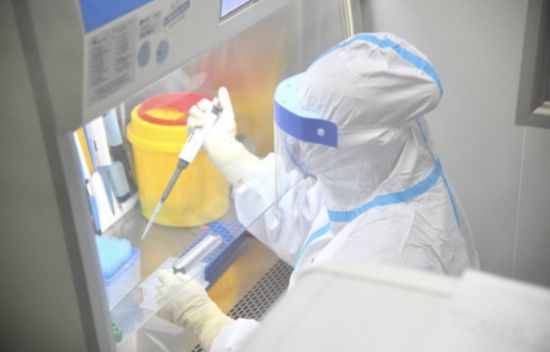 A medical worker conducts testing of the novel coronavirus in Union Hospital in Wuhan, Hubei province. [Photo provided to China Daily]
A medical laboratory for testing the novel coronavirus was built and started running at the Union Hospital in Wuhan of Hubei province on Jan 25, testing more than 200 samples daily.
Wang Lin, director of the clinical testing department of the hospital, said it takes six hours for testing results and the lab is running around the clock as staff give up their holiday and rotate between three shifts a day.
The hospital is affiliated to Tongji Medical College, Huazhong University of Science and Technology, and the lab is using the method of reverse transcriptase polymerase chain reaction (RT-PCR) to detect the virus.
Wang said the lab is currently studying how to shorten the testing time and further expand testing capacity.
A total of 2,744 people were infected by the novel coronavirus across the country as of Sunday midnight, according to the National Health Commission.