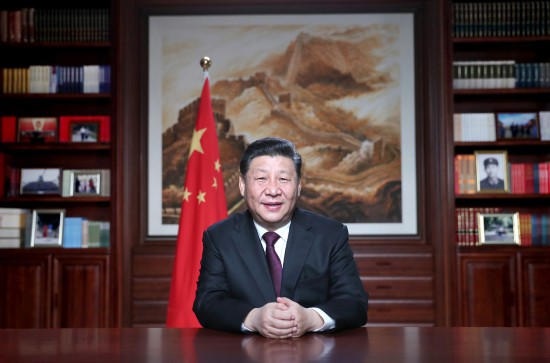 President Xi Jinping delivers a New Year speech to extend New Year greetings to all Chinese, and best wishes to friends all over the world, in Beijing, capital of China, Dec 31, 2018. [Photo/Xinhua]
In a world undergoing dramatic changes, China will remain confident and resolute in safeguarding its sovereignty and security, and maintain its sincerity and goodwill for safeguarding world peace and promoting common prosperity, President Xi Jinping said in his 2019 New Year's speech.
The declaration Xi made on the last day of 2018 is a footnote to his commitment to building a better world for all with his insightful and pragmatic diplomatic endeavors, widely known as Xiplomacy.
Since the start of the year, Xi has made five overseas visits and attended four multilateral gatherings in eight countries to forge broader consensuses and closer partnerships for jointly building a community with a shared future for mankind.
BILATERAL COOPERATION BENEFITS MORE
On June 29, on the sidelines of the G20 Summit in Osaka, Japan, Xi's meeting with his US counterpart Donald Trump spurred optimism and lifted global markets.
In their face-to-face meeting, the two leaders agreed to jointly advance a China-US relationship featuring coordination, cooperation and stability, and to restart economic and trade consultations, with the US agreeing at the meeting not to impose new tariffs on Chinese imports.
China and the US have highly integrated interests and extensive areas of cooperation, and they should not fall into the traps of conflict and confrontation, Xi said.
"They signaled the will to cooperate. This is very important and constructive. The situation is indeed improved," said Jeffrey Sachs, a senior United Nations adviser and renowned economics professor at Columbia University, on the significance of the meeting.
Xi's state visit to Russia in early June came as the two countries are marking the 70th anniversary of the establishment of diplomatic ties.
The Chinese leader, together with Russian President Vladimir Putin, upgraded bilateral relations to a comprehensive strategic partnership of coordination for the new era.
Xi noted that Sino-Russian ties have become a major-country relationship featuring the highest degree of mutual trust, the highest level of coordination and the highest strategic value, thus making key contributions to world peace, stability and development.
Two weeks later, the Chinese president arrived in the Democratic People's Republic of Korea for a state visit, the first of its kind in 14 years.
In his talks with DPRK top leader Kim Jong-un, Xi said the China-DPRK relationship has entered a new era. He also re-affirmed China's support for efforts to advance the political settlement of the Korean Peninsula issue and build up conditions for it.
Xi's visit contributed to lasting peace and stability on the peninsula as well as in the region, said Lee Hee-ok, director of the Sungkyun Institute of China Studies at Sungkyunkwan University in Seoul.
MORE BENEFITS FOR ALL
While protectionism and fierce global competition for resources have diverted some economies' attention from making a bigger cake to wrestling for a larger slice, Xiplomacy staunchly advocates common efforts to create more shared interests and benefits.
"We should forge a global connectivity partnership to achieve common development and prosperity," Xi said at the Second Belt and Road Forum for International Cooperation in April. "As long as we work together to help each other, even if thousands of miles apart, we will certainly be able to find a mutually beneficial and win-win road."
His remarks resonated with many attendees at the event, which was held in Beijing and gathered participants from more than 150 countries and 90 international organizations.
Xi proposed the Belt and Road Initiative in 2013 and frequently promoted it on multiple international occasions. The endeavors have borne fruitful results — some 126 countries and 29 international organizations have signed BRI cooperation documents with China.
From 2013 to 2018, trade between China and other BRI countries surpassed $6 trillion, and China's investment in BRI countries exceeded $90 billion.
"The BRI has transcended the challenges of geography and un-equal development," and China "has proved itself as a reliable, responsible partner in the international arena", said Nursultan Na-zarbayev, the first president of Kazakhstan.
The blueprint also ignited Italy's enthusiasm as Rome clinched a deal with Beijing to jointly advance the construction of the Belt and Road during Xi's state visit to the nation in March.
Italian President Sergio Mattarella said that with the continuous deepening of the comprehensive strategic partnership between the two countries and the implementation of the deal, the Italy-China relationship is becoming increasingly active, close and inclusive.
Italy is the first G-7 country that has signed such an agreement with China, while France and Germany also showed interest in boosting BRI-related cooperation through third-party markets to improve infrastructure in Africa.
The fact that more and more potential partners have shown interest in the joint construction of the Belt and Road corroborates Xi's words that "the BRI will not become an exclusive club".
CONCERTED EFFORTS FOR SHARED FUTURE
Making multilateral efforts to address pressing global issues is another core message of Xiplomacy, as effective global governance is threatened by rising unilateralism and trade protectionism.
At the G20 Summit in Osaka, Xi said the world economy is at a crossroads, and the G20 bears the responsibility to chart the course for the world economy and global governance at a crucial time.
To tackle global challenges, he put forward a four-point proposal: sticking to reform and innovation and exploring driving forces for growth; keeping pace with the times and improving global governance; actively tackling challenges and removing development bottlenecks; and upholding the spirit of partnership and properly addressing differences.
Xi's "much anticipated speech ... provides direction for improving the global trading system" to avoid "being myopic and guided by short-term interests", said Swaran Singh, a diplomacy professor at the School of International Studies at New Delhi-based Jawaharlal Nehru University.
Xi also appealed for multilateralism on occasions such as the St. Petersburg International Economic Forum, the summit of the Shanghai Cooperation Organization and the Conference on Interaction and Confidence Building Measures in Asia.
In March, at the global governance forum co-hosted by China and France in Paris, Xi described "four deficits" in global affairs, namely a governance deficit, trust deficit, peace deficit and development deficit, and proposed a four-pronged approach to addressing these deficits.
Dialogue facilitates understanding among countries, as was demonstrated in the Conference on Dialogue of Asian Civilizations held in Beijing in May.
The conference aimed to create a new platform for advancing equal dialogue, mutual learning and mutual inspiration among civilizations in Asia and the rest of the world, Xi said.
The intensifying global challenges humanity is facing now require concerted efforts by countries across the world, he said.