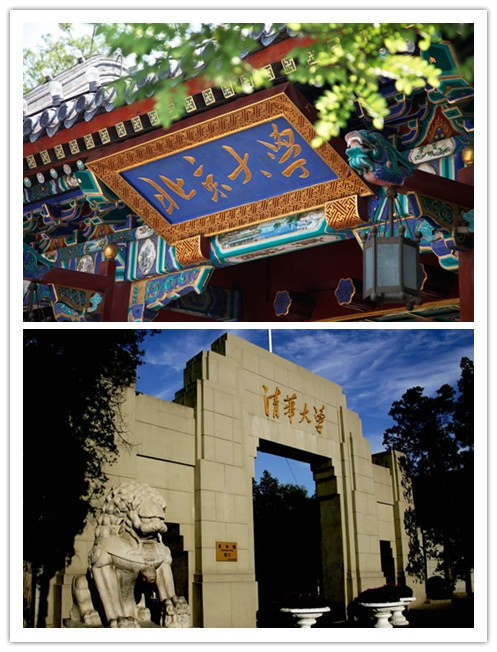 Peking University(top) and Tsinghua University. [File photo]
A total of 12 Chinese academic institutions have been included in the global top 100 of the sixteenth edition of the QS World University Rankings, released on Wednesday by London-based higher education analysts QS Quacquarelli Symonds.
Tsinghua University is China's highest-ranked university in the list, rising to 16th from last year's 17th. Peking University rose eight places to reach 22nd place globally. Both universities have achieved their best rankings since the list was first published in 2004.
This year's rankings illuminate sustained improvement throughout China's higher education. Furthermore, China's research impact rating continues to improve. Of the Chinese mainland's 42 ranked universities, 32 have improved their performance for QS's citations per faculty indicator.
Six mainland universities made it to the top 100, Hong Kong has five universities and Taiwan has one.
Globally, Massachusetts Institute of Technology was named the world's leading university for a record-breaking eighth consecutive year in the rankings, while Asia's top universities are the Nanyang Technological University and the National University of Singapore, both in 11th place.
QS ranked 1,000 universities from 82 different locations for the QS World University Rankings 2020. Universities are measured on academic standing, graduate employability, student and staff ratios, research impact and internationalization.
This year's top 1,000 universities saw relatively little movement at the very top. Massachusetts Institute of Technology, Stanford University and Harvard University are the unchanged top three, while the University of Oxford continues to be the best university in the United Kingdom, according to a statement by the official QC Quacquarelli Symonds website.
However, outside of this good performance there are worrying signs for both the US and the UK, the statement read.
The majority of universities from both the US and UK have fallen in rank this year. In most cases, this is because of a weaker score for international student ratios, one indicator used to compile the ranking, it said.
It may not be long before other universities begin to overtake the traditional heavyweights from the UK and US, it added.