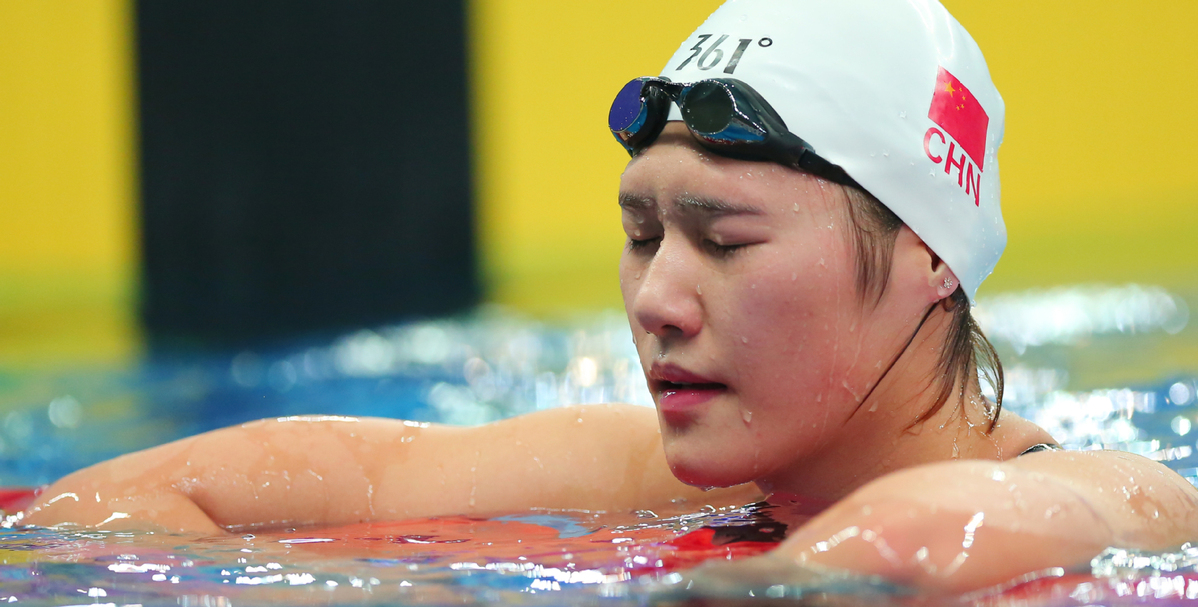 Ye Shiwen reacts after winning the women's 200m individual medley title at the national swimming championships on Monday in Qingdao, Shandong province. (Photo/Xinhua)
With her legal studies on hold, Olympic champ gets comeback off to great start
Ye Shiwen has spent more time immersed in her legal books than in the pool in recent years, but on Monday the Tsinghua University law student made a convincing case for her future medal chances by winning gold in the women's 200m individual medley at the national swimming championships in Qingdao, Shandong province.
The 23-year-old, who stunned the world by becoming a teenage Olympic champion at London 2012, clocked 2 minutes, 09.24 seconds at the nationals, which serve as a selection event for July's World Aquatics Championships in Gwangju, South Korea.
"As I chose to return to the swimming pool, I'm determined to fight my way back to the highest podium," said Ye.
"Tonight was just the first step of my journey. I never felt that I was completely cut off from the pool.
"Winning the 200m medley was a must for me. Actually, I didn't hit the target I set for myself. I planned to finish the race within 2:08.00, but I caught a cold before the event. It wasn't ideal and I was exhausted in the final sprint.
"But I think I have a mental edge. I've participated in many major international events, and this event was just a test for me. I believe in myself."
Ye's time was the third fastest in the world this year - an astonishing feat considering she only returned to the pool in November after a year of study.
The Hangzhou native shot to prominence by winning the 200m and 400m medley golds as a 16-year-old at the 2012 London Games, where she clocked 2:07.57 in the 200 to set an Asian record that still stands.
Disaster struck four years later at the Rio Olympics, where Ye could only finish eighth in the 200 final and failed to qualify for the 400 final.
That led many observers to question if she was a spent force, but a three-month training camp with the national team in Kunming, Yunnan province, appears to have worked wonders.
"Now returning to the pool, I cherish every training," Ye said. "Three months of recovery was actually enough for me. During the winter training in Kunming, I tried my best every day.
"Confidence is one reason, but the most important factor is training. Everyone can get nervous at big competitions, so what matters most is what you've got from your daily training."
Coach Zhu Zhigen, who masterminded the Kunming training block, is thrilled to see all the hard work pay off here.
"This year is so important in terms of preparing for the 2020 Tokyo Olympics," said Zhu.
"Before that, the strongest swimmers will compete at the Gwangju world championships. Through the aerobic workouts in the plateau region, swimmers could better conserve body strength."
Ye cautioned that hitting the heights of her London 2012 glory days is a huge ask.
"I said my goal was to break 2:08.00, and I'll try to achieve it at the world championships," she said.
"I'm very confident, but my muscles are not the same as when I was 16. The Qingdao event is the first step of this year. I believe I can be better and better."
Ye, who is also giving the 200m breaststroke a shot this week, said: "I won't be considering any other strokes at this stage as three are enough for me."