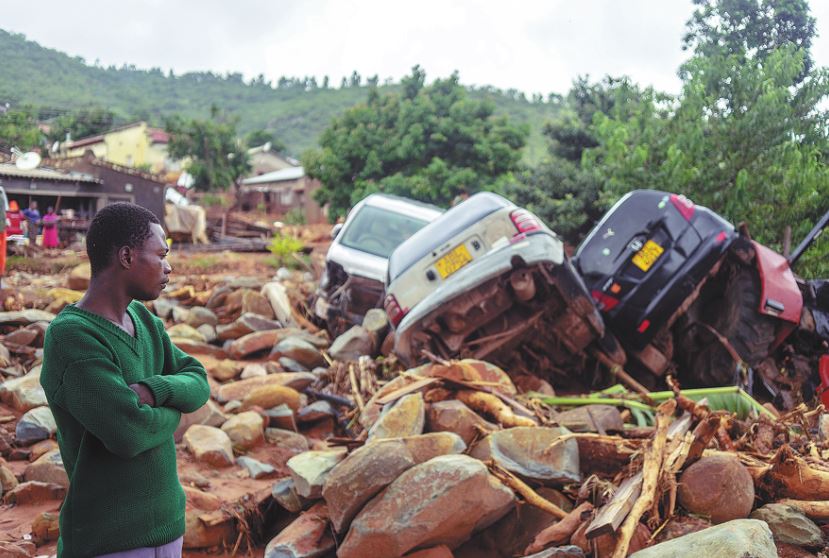 Debris lies strewn over Chimanimani, Zimbabwe, on Monday after the area was hit by deadly cyclone Idai. [Photo/Agencies]
Hundreds are dead, many more are missing and thousands are now at risk from massive flooding in Mozambique, Zimbabwe and Malawi caused by Cyclone Idai and persistent rains.
Aid agencies and government officials were scrambling on Tuesday to rescue people trapped after rivers burst their banks, the Associated Press reported.
China expressed condolences on Tuesday to the three southern African countries, which suffered extensive casualties and property losses.
Foreign Ministry spokesman Geng Shuang said China hopes the injured will recover soon and the displaced will soon return to their homes.
The Chinese government will provide necessary support for disaster relief to the best of its ability based on the three countries' respective needs, he said.
The number of people killed in Mozambique could climb to over 1,000, President Filipe Nyusi said in a radio broadcast.
Some 1.7 million people were in the path of the cyclone in Mozambique, and 920,000 were affected in Malawi, Reuters cited United Nations officials as saying on Tuesday.
Storm surges up to 6 meters high had caused "incredible devastation" over a huge area, World Food Programme regional chief Lola Castro said.
The Buzi River in Mozambique had burst over its banks, killing hundreds, and there was the risk of more flooding in the Buzi, Pungwe and Save river basins over the next 72 hours.
The city of Beira in central Mozambique bore the storm's full wrath on Thursday before the cyclone barreled on to neighboring Zimbabwe and Malawi, unleashing fierce winds and flash floods and washing away roads and homes, Agence France-Presse reported.
"The scale of damage in Beira is massive and horrifying", the International Federation of Red Cross and Red Crescent Societies said.
The organization said in a statement that 90 percent of the city of 530,000 people and its surrounding area had been "damaged or destroyed".
The Mozambican government issued flood warnings and said heavy rains were forecast for the next 24 hours, including in areas already hit hard by Idai, AP cited the UN's humanitarian office as saying.
UN officials cited reports that Beira Central Hospital's emergency room was flooded and without power, and that much of the building's roof had collapsed. Doctors Without Borders said it had completely ceased operations in the hospital, local health centers and throughout the community.
In Zimbabwe, Idai has left 98 dead and at least 217 missing, according to the information ministry. Nearly 1,000 homes were destroyed in eastern Zimbabwe alone, AFP said.
Zimbabwe's President Emmerson Mnangagwa cut short an official visit to the United Arab Emirates and returned home on Monday.
"With every hour and day that passes, our worst fears become increasingly real," he said in a statement. "Many have drowned while others were killed in their sleep from swift and unexpected rockfalls which demolished their homes."
Malawi's government has confirmed 56 deaths, three missing and 577 injured amid the severe flooding, and Xinhua News Agency said over 183,000 were affected due to flooding and landslides.