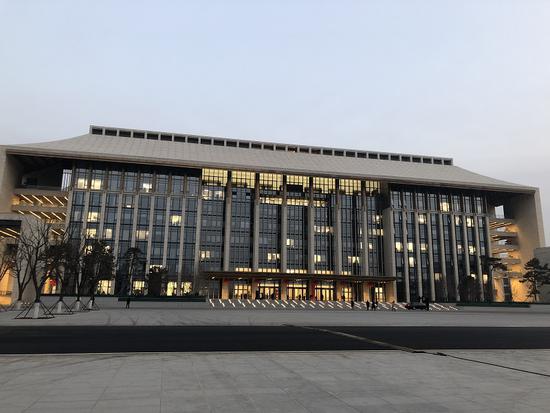 The municipal administrative center of Beijing in Tongzhou district. [Photo/CCTV News]
Over 600 people gathered on Friday morning in front of the new office buildings of the Beijing municipal government in Tongzhou district for a flag-raising ceremony, marking that the government has formally begun work in the new location.
Those in attendance included the Party chief of the capital Cai Qi, Mayor Chen Jining, Chairman of the Standing Committee of the Beijing Municipal People's Congress Li Wei, and Chairman of the Beijing Committee of the Chinese People's Political Consultative Conference (CPPCC) Ji Lin. Following the ceremony, these four distinguished individuals also inaugurated the Beijing Municipal Committee of the Communist Party of China, Beijing Municipal People's Government, the Beijing Municipal People's Congress, and the Beijing Municipal Committee of the CPPCC.
So far, 35 municipal government departments and 165 agencies, with about 120,000 employees, have relocated their offices to Lucheng town in Tongzhou district.
On Thursday evening, the nameplate on the government's old main building in the downtown area was taken off and handed over to the archives.
Beijing is shifting some of its administrative functions out of the city center to Tongzhou to help address problems including traffic congestion and air pollution. The move is also part of the Beijing-Tianjin-Hebei integrated development plan.
"Beijing will make every effort in implementing the design of the sub-center of Beijing," Vice-Mayor of Beijing Sui Zhenjiang said at a policy briefing of the State Council Information Office on Friday, stressing that environmental protection would be a top priority of the new sub-center.
The previous chemical plant in Tongzhou will be restructured into a forest park of 11 square kilometers, with a theater, library and museum as supplemental facilities.
The central business district of the sub-center, together with an integrated traffic hub, will connect Tianjin, Tangshan in Hebei province, and the suburbs of Beijing.
"Historical and cultural protection, especially protection of the historical sites in Lucheng town, Tongzhou district, is another major task of the sub-center building," said Sui, adding that intelligent management is a new feature of the sub-center.
Beijing's sub-center, which sits in the east of the capital, aims to accommodate 1.3 million permanent residents by 2035.
The city sub-center will cover 155 sq km and be extended to the whole area of the current Tongzhou district, which has a total of about 906 sq km, according to the plan for the sub-center's development for 2016 to 2035, approved by the Communist Party of China Central Committee and the State Council.