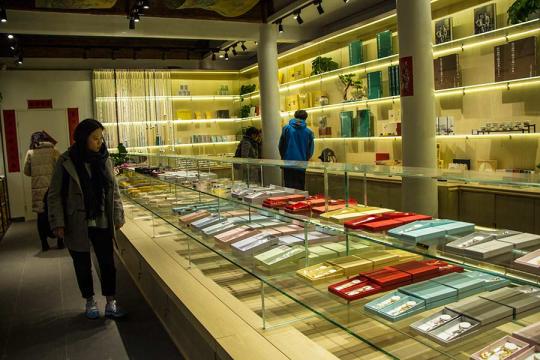 Taobao Experience Store, located outside the Shenwumen Palace Museum, is full of creative products. (Photo provided to China Daily)
Assorted modern souvenirs retell past stories to cultural buyers, boost revenue
Museums in China are increasingly exploiting the power of the intellectual property they own through merchandise.
Art, figurines, icons, replicas of jewelry, and various products printed with designs or images of ancient objects are all finding buyers in the souvenir market.
Zhao Xinhao, 31, is one such cultural consumer. A government employee, she recently parted with 199 yuan ($29) to buy a pair of earrings in shape of guzheng (Chinese zither) strings. The earrings make her feel more Chinese, Zhao said.
Among her other favorites are a notebook with printed quotes of Emperor Yongzheng (1722-35) in Qing Dynasty (1644-1911), Chinese princess dolls, and adhesive tapes painted with images of Beijing's Palace Museum.
To own souvenirs with Chinese cultural elements has become something of a fashion. More and more museums are jumping on the bandwagon, using their collections to create goods that can meet market demand.
"Such products convey a sense of delicate design. They are affordable and their quality isn't bad. New products are released every month. I just can't stop buying them," Zhao said.
Li Yuanyuan, 31, an entrepreneur in the cultural industry in Beijing, said her personal "collection" now includes the entire range of collectibles related to the Palace Museum. She spends more than 10,000 yuan on average annually on such goods.
Her favorites include limited-edition bags and necklaces with intricate patterns, which she wears to events overseas, so that "people can tell where I come from at first sight".
Guo Ying, 21, a collegian in Xianyang, Shaanxi province, said although she buys loads of animation products and games-related dolls or pillows, what give her true joy are the adorable little objects she bought at various museums.
The Palace Museum, also known as the Forbidden City, houses 1.86 million cultural items. China's imperial palace from 1420 to 1911, the museum is popular among tourists, artists, architects, researchers and historians alike.
In recent years, the museum began harnessing the potential for revenue from souvenirs. Its limited-edition set of lipstick cases has colorful miniature imagery of butterflies, deer and blossoms. They showcase traditional Chinese royal aesthetics. No sooner had their online sale begun in December than they sold out.
Sales of the museum's cultural and creative products grew from 600 million yuan in 2013 to 1 billion yuan in 2016. Merchandise revenue for 2018 is estimated to reach about 1.5 billion yuan.
Liu Dongming, a marketing expert from Tencent's intelligent marketing division, said the museum's fame, coupled with the large number of its visitors, has laid a solid base for the merchandise business to boom.
Besides, the newly launched products are very creative and have utility value, he said.
In May 2016, the government released a document to encourage culture and relics-related institutions, such as museums, galleries, libraries, and memorial halls, to develop cultural and creative products, in a bid to integrate traditional culture into modern life and meet demand among consumers for cultural merchandise.
By the end of 2017, about 2,500 museums and other cultural institutions have produced such products, which include earphones in the shape of court beads, scarves decorated with famous paintings, and funny emojis such as a Chinese emperor holding a rose and a thickpaper fan emblazoned with the words "I miss you too".
"Generally, the idea of a museum conveys a sense of heavy or dull historical objects covered with dust. But using modern design and technology, the power in such objects to stir cultural pride can be harnessed. Merchandise, in turn, gives such objects added significance," said Ji Gang, partner of consultancy firm Roland Berger.
From January to October 2018, the number of netizens who searched for "museum" on Tmall and Taobao, China's major e-commerce platforms, rose 2.15 times from the same period in 2016. Among them, about 90 percent were looking for cultural and creative products, data from Tmall showed.
About 76 percent were female consumers and more than 30 percent were people aged 19 to 25, it said.
Ji further said some museums now have teams of designers and salespeople dedicated to their mechandising business. Some institutions cooperate with other firms to develop such products, earning copyright fee in the process.
Although nascent in China, cultural products are a popular business in the West. About one-third of revenue of the Museum of Modern Art in New York comes from IP-related products.
Similarly, British Museum's revenue from merchandise reached about $200 million in 2015. Without entrance fee, a large part of its revenue comes from cultural and creative products.
The museum sells about 60 products that are based on the Rosetta Stone alone, Ji said.
So, museums must try to make use of their most famous collections with the help of top global experts in the field. They should research consumer demand, and come up with products that can retell past stories to the new generation, Ji said.
According to He Yizan, CEO of Alfilo Brands, a Shanghai-based firm dealing in IP-related products, China's per-capita GDP in 2017 exceeded $8,000, which is considered the threshold when citizens start to care more about aesthetics, culture and spiritual life.
Clearly, China has entered a boom period for art consumption, he said.