Domestic coffee chain Luckin Coffee has announced a plan to open 2,500 new stores in 2019 and become the market leader in China, Chinanews.com reported on Friday.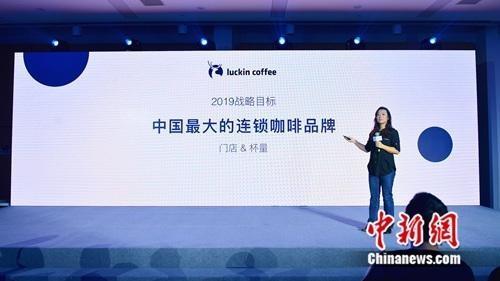 Qian Zhiya, founder and CEO of Luckin Coffee, spoke at a press conference in Beijing on Thursday, January 3, 2019. [Photo: Chinanews.com]
Qian Zhiya, the company's founder and CEO, said on Thursday during a press conference that they will have more than 4,500 stores across the country this year, which will put them ahead of Starbucks. They are also aiming to beat the American chain's sales.
Qian also said that the chain will continue to offer promotions so they can quickly grow their market share, despite a reported deficit of 857 million yuan (125 million US dollars) in the first nine months of last year.
After another round of financing in December that brought in around 200 million U.S. dollars, Luckin Coffee is now worth an estimated 2.2 billion U.S. dollars.
The first Luckin Coffee shop opened in January 2018. By the end of the year, the company had 2,073 stores in 22 cities across China.