Insulters should pay the price, but prudence, calm urged amid rising patriotism
Italian fashion house Dolce and Gabbana (D&G) is facing a large-scale backlash not only from Chinese e-commerce platforms and consumers but also from Chinese working and studying in Italy, after the brand was accused of racism in its promotions for a fashion show in Shanghai.
The spread of D&G's controversial videos, as well as the insults allegedly made by one of its senior executives, have triggered outrage among Chinese consumers.
Hashtags such as "D&G, get out of China" and "D&G insulting China" gained over 2 billion page views as of press time, with users calling for a boycott of the brand and Chinese celebrities terminating their contracts with the fashion brand.
When asked to comment, Chinese Foreign Ministry spokesperson Geng Shuang told an Italian reporter at the daily press briefing on Thursday that the nature of the D&G controversy is not a diplomatic one, nor does China intend to upgrade the issue to a diplomatic matter.
Geng also noted that instead of asking him, the reporter should ask Chinese people about how they view this issue.
D&G products could not be located on China's major e-commerce websites on Thursday. Searches of "Dolce&Gabbana" in jd.com and the Alibaba-operated Tmall online shopping platform yielded no results.
Another e-commerce platform, xiaohongshu.com, has also removed all D&G products, saying that "interests of the motherland should not be infringed" and that "all forms of cooperation are based on respect," according to a statement it sent to the Global Times.
About a dozen of Chinese citizens, including students and fashion buyers, protested in front of D&G's flagship store in Milan Wednesday evening, a witness surnamed Ding said.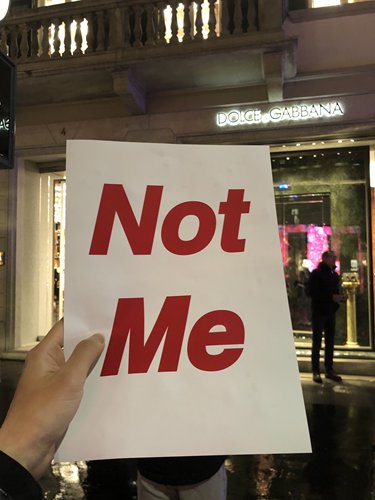 Ding holds up a leaflet handed to him by a number of Chinese people protesting in front of D&G's flagship store in Milan on Wednesday. The leaflet reads "Not Me," the words Gabbana pasted over images of the alleged comments on his personal Instagram account. Photo: Courtesy of Ding
Ding, who is also a Chinese daigou (someone who purchases goods on behalf of their customers) who lives in Milan, told the Global Times on Thursday that he received four refund requests for D&G products on Wednesday.
"One customer, though not seeking a refund, said that after he receives the D&G T-shirt he would cut out the logo and wear it as pajamas," said Ding, adding that D&G products usually sell quite well in the lucrative Chinese market.
Ireland-based newspaper Irish Sun reported Wednesday that the Asia-Pacific region makes up around 30 percent of D&G sales.
D&G has more than 50 stores in China, including those in Guangzhou, Beijing and Shanghai.
Some Chinese who used to be fond of the brand told the Global Times on Thursday that they won't buy D&G products in the future.
"The unfriendly attitude is rooted in the spirit and bones of the brand," a Shanghai-based consumer told the Global Times on Thursday on condition of anonymity.
The strong reaction from Chinese consumers stems from several videos the brand posted on Twitter and Instagram over the weekend showing a Chinese woman being told how to use chopsticks to eat Western food.
The films were designed to promote a fashion show scheduled to be held at Wednesday night.
The show was canceled Wednesday afternoon following the eruption of the controversy.
Mixed mood
Wang Sixin, a professor at the Beijing-based Communication University of China, said he felt offended by the "condescending" and "disrespectful" depiction of Chinese culture in the videos.
"I don't feel very comfortable after watching those films," he told the Global Times.
Media reported that an Instagram user added fuel to the fire by posting screenshots of an alleged conversation between D&G design director Stefano Gabbana and another fashion designer on Instagram.
The chat record appears to show Gabbana using a string of emojis to suggest that "the country of shit is China."
D&G issued a statement on Wednesday, claiming the Instagram account had been hacked. It apologized to Chinese consumers on the Twitter-like Sina Weibo in Chinese Wednesday.
In a separate Wednesday statement, the company said "What happened today was very unfortunate not only for us, but also for all the people who worked day and night to bring this event to life."
Zhi Zhenfeng, a legal expert at the Chinese Academy of Social Sciences, told the Global Times that the video can be considered cultural misunderstanding but Stefano Gabbana's comments are "surely racist."
Wang stressed that as China becomes an increasingly important global market, it is important that citizens should respond to such incidents with prudence and calm. The protests are individual actions, said Wang, noting that "the incident should not escalate into a social campaign overtaken by patriotic or nationalistic feelings."
"Insulting China is serious, and foreign brands should pay the price if they do. But we should also be mindful that misunderstandings caused by differences in ideology, culture and politics should not be exaggerated, and that patriotism should be manifested in a calm way," he said.