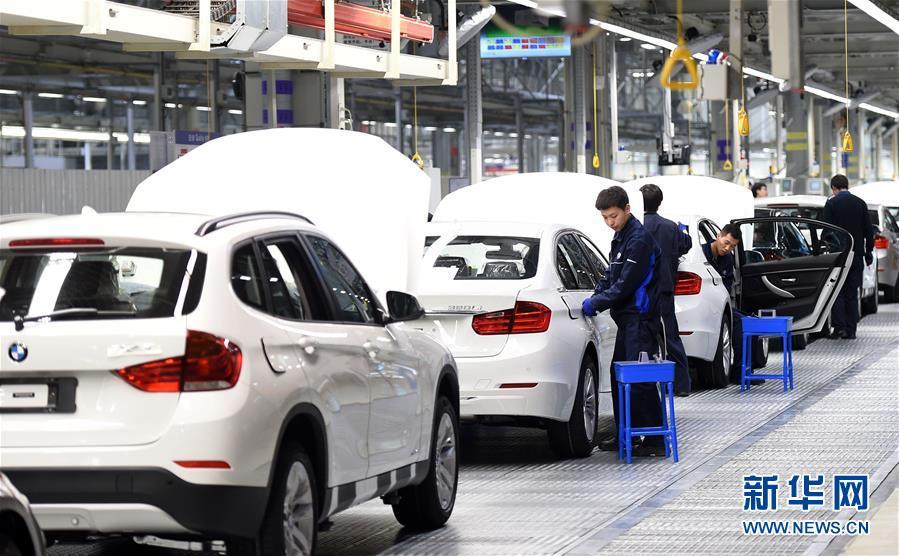 Workers work in the workshop of the joint venture between BMW and China's Brilliance Automotive in Shenyang, Liaoning province. (Photo/Xinhua)
Foreign companies are optimistic about China's development prospects and regard China as an increasingly attractive destination for their investment.
In the first nine months, the number of new overseas-funded companies established in China surged 95.1 percent from a year earlier to 45,922, according to data released by the Ministry of Commerce on Oct.18.
In the same period, total foreign direct investment (FDI) inflow edged up 2.9 percent to 636.7 billion yuan.
Malaysia is an active participator of the construction of the Belt and Road. Malaysian goods, such as Musang King and white coffee, are gaining more and more popularity among Chinese consumers. China is the top export destination for Malaysian suppliers.
Malaysia was home to desirable products, while China had a large domestic market, indicating huge potential for economic and trade cooperation between the two countries, Dato'Ng Wan Peng, the chief operating officer of Malaysia Digital Economy Corporation, told People's Daily.
She said the Malaysian government had long been in the partnership with Chinese e-commerce platforms. It had offered e-commerce training to small and medium-sized Malaysian enterprises, in order to help them reach more customers and increase exports.
The officer expressed hope that more Chinese companies and consumers would become interested in Malaysian products through the first China International Import Expo (CIIE) to be held in Shanghai this November.
German automaker BMW and China's Brilliance Automotive released a joint announcement recently to extend the term of the joint-venture agreement from 2028 to 2040. Meanwhile, BMW decided to invest €3 billion in the project, to improve its production capacity from 520,000 to 650,000, and create 5,000 new local jobs.
German newspaper Handelsblatt commented that the investment increased by BMW was a clear signal that China would further open up its market.
Harald Kruger, chairman of the BMW Group, said China was not only a big consumer market for BMW, it would also become a global production base to directly export autos to other markets worldwide.
China's Shenyang now has become BMW's largest production base worldwide since the German automaker started a joint venture in China with Brilliance Automotive 15 years ago.
According to German media, by 2020, one of BMW's core products, the first fully-electric vehicle, is expected to be manufactured in Shenyang. The car will not only be sold in China, but also be exported from China to markets worldwide. German industry analysts and media believe that BMW's investment increase indicates that German companies maintain strong confidence in the Chinese market.
German enterprises have expanded investment in China since 2017. For instance, Volkswagen plans to invest more than €10 billion in China to fund electric car manufacturing by 2025, and roll out nearly 40 new energy vehicles.
Daimler and Chinese automaker Beijing Automotive Industry Corporation (BAIC) plan to invest more than 11.9 billion yuan in building a new production facility for Mercedes-Benz Beijing. German chemical giant BASF announced recently to invest $10 billion to build a Verbund chemical production site in Zhanjiang City in China's Guangdong province.
Over the past 40 years since the reform and opening-up, China saw a fast-growing economy and steadily improved living standards of its people. Now, the Chinese society pays more attention to the quality of services such as healthcare and elderly care.
Paying close attention to China's social development, Japanese companies are exploiting the huge commercial opportunities in China's healthcare and senior care industries.
Japan's Osaka Chamber of Commerce and Industry has sent many delegates to investigate China's elderly care industry in recent years. Japanese think tank Daiwa Institute of Research said in a report that China would provide huge business opportunities for Japanese enterprises on supplies for the elderly, cultivation of nursing assistants and facilities for the elderly.
China is improving its elderly care industry, which is an opportunity for Japan, according to a report by Chiba Bank's Shanghai operating base.
Many Japanese enterprises expressed that the first CIIE was a unique opportunity and they would actively take part in it in order to look for more business opportunities in China.