Chinese Premier Li Keqiang pledged on Friday joint efforts between his country and Greece to push for new achievements in practical cooperation marked by port projects in Piraeus.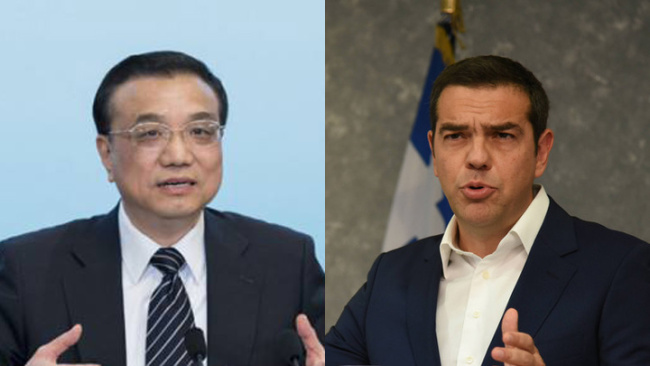 Chinese Premier Li Keqiang(left) and Greek Premier Alexis Tsipras [Photo:China Plus]
Li made the remarks when meeting with his Greek counterpart, Alexis Tsipras, on the sidelines of the 12th Asia-Europe Meeting Summit in Brussels.
Li called Greece a reliable friend and partner of China and said China has attached great importance to its relations with Greece.
He said the Chinese side is happy to see the end of Greece's bailout program and that the country has opened a new chapter in socio-economic development.
China is ready to join efforts with Greece to intensify high-level exchanges, deepen mutually beneficial cooperation, and achieve mutually beneficial and win-win results, so as to lift their comprehensive strategic partnership to a new level, he said.
The Chinese side is willing to work with Greece to implement the cooperation agreement on the construction of the Belt and Road, Li said.
China, Li pledged, will encourage its capable enterprises to invest and develop in Greece, increase imports of Greece's competitive agro-products and deepen financial cooperation with the country based on the principles of commercialization and sustainability.
As countries with ancient civilizations, China and Greece should continue to enhance dialogue between different civilizations, blaze the trail for the diversified development of human civilization, and create a lasting impetus for mutual understanding and common development between the two countries, Li said.
Tsipras said the dialogue and cooperation between Greece and China are far-reaching, as both are countries with ancient civilizations that have made significant contributions to oriental and western civilizations.
China has stood together with Greece in times of difficulty, he said, adding that his country is now striving to advance socio-economic development, which produces vast room for Greek and China to carry out mutually beneficial cooperation.
The Greek side believes that the port projects in Piraeus will drive Greece-China cooperation in logistics and connectivity, and is ready to take this opportunity to strengthen bilateral cooperation and exchanges in economy, trade and investment within the framework of the Belt and Road Initiative, to achieve common prosperity, he said.