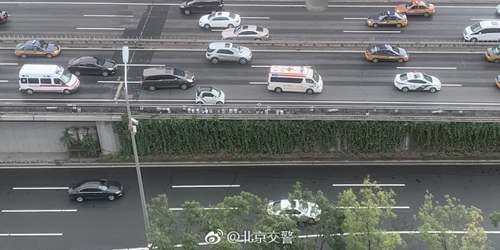 Surveillance footage shows the ambulance carrying a severely injured teen on the road in Beijing on Oct 16, 2018. [Photo/Weibo account of Beijing Traffic Police]
A severely injured teenager arrived at Beijing Tiantan Hospital from North China's Inner Mongolia autonomous region nearly two hours earlier than expectated thanks to traffic police and the public, chinanews.com reported.
Yuze, a middle school student from Beijing, suffered a traumatic brain injury, pneumothorax and fractures following a car accident in Inner Mongolia. He wasn't breathing and medical staff couldn't detect a heartbeat when he was sent to a local hospital, Beijing News reported. Cardiopulmonary resuscitation was performed several times and he was kept alive via a breathing machine.
His family asked the Beijing Red Cross for help. After consulting with local doctors, the family decided to transfer him to Beijing by ambulance.
The ambulance set off from Inner Mongolia at 5:16 am on Tuesday and arrived at Beijing Tiantan Hospital on 10:36 am, completing the 520 km drive in five hours and 20 minutes. The ambulance driver said that they only stopped once to use a bathroom. The trip usually takes seven hours.
During the trip, Beijing traffic police sent 19 messages on its Sina Weibo account, updating their position and asking vehicles along the road to make way for the ambulance. Beijing police also arranged for a police escort to lead the ambulance when it entered Beijing.
Amap, a leading Chinese mapping service provider, enabled real-time positioning of the ambulance and sent audio messages to vehicles along the way. Netizens also forwarded the news on social media so more people would know what was happening.
Yuze was sent to the hospital's intensive care unit.