No. 2 seed Novak Djokovoic captured his fourth ATP Shanghai Masters title on Sunday with a commanding straight-sets victory (6-3, 6-4) over 13th seeded Borna Coric.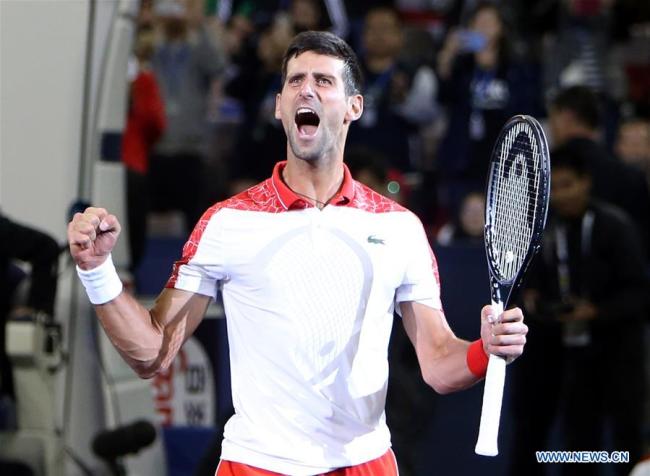 Novak Djokovic of Serbia celebrates after winning the men's singles final match against Borna Coric of Croatia at 2018 ATP Shanghai Masters tennis tournament in Shanghai, east China, Oct. 14, 2018. Novak Djokovic won 2-0 in the final and claimed the title of the event. [Photo: Xinhua/Fan Jun]
"I'm cherishing every moment of it, I couldn't ask for a better scenario," said the 31-year-old Serbian. He broke in the sixth game in the first set and held out all of his services games with several solid forehand winners down the line to seal the 6-4 win.
In second set, Coric, who took out top seed Federer on his way to the final, conceded a break in the opening game. The undeterred 21-year-old Croatian saved three consecutive points in the ninth game after Djokovoic missed a winning opportunity at the net.
But 14-time Grand Slam winner Djokovoic didn't miss again in his own service games, closing out the match one hour and 36 minutes.
Djokovic, who has struggled to find his best form after an elbow surgery at the start of the season, fell to No. 22 in the ATP rankings in May. Now back in winning form, he has not lost a match since Toronto in August and lifted four trophies in Wimbledon, Cincinnati, the US Open and now in Shanghai.
"I think you are seeing the new Novak, I am just trying to hold on to it as long as I can," said Djokovic. He will surpass Federer to become World No. 2 on Monday and is getting very close to Nadal's number one spot.
Coric's rankings will also improve to a career-high No. 15 next week after his first entry into the ATP 1000 Masters final. "I did prove myself that I can beat the best players again and that I can play good tennis," the up-and-coming Croatian said. "And next year, just coming here, I'm going to play better," he promised.