A senior official with the organizers of the upcoming World Military Games, soon to get underway in central China's metropolis of Wuhan, has spoken out on the host country's work ahead of the opening day.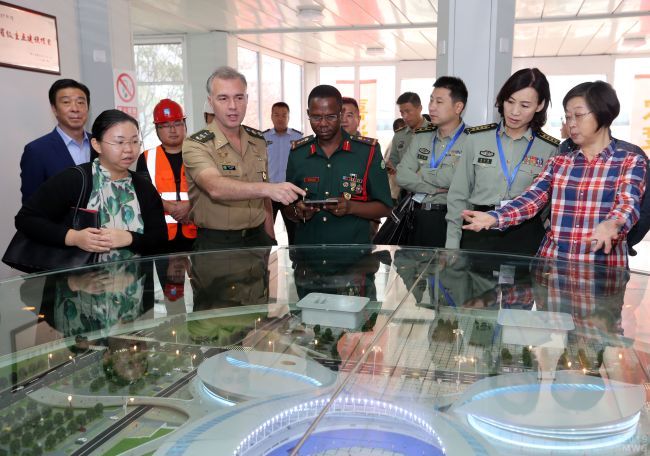 Officials of the International Military Sports Council (CISM) stand in front of a sand table during a visit to the Dongxihu Sports Center on October 9, 2018 to inspect the progress of the project. [Photo: Changjiang Daily]
"China's efforts in hosting the 7th CISM World Games are beyond our imagination, and the materialization of its achievement gives us a lot of pride," said Rafael Pinheiro, Sports Committees Manager of the International Military Sports Council (CISM) in Wuhan on Saturday.
"China's preparation for the Games is one of the most efficient and memorable examples of team work, characterized by a perfect and harmonic civil-military relation, that involves the Chinese armed forces, public administration and development in different levels and national sports federations working together with CISM," Pinheiro said.
This was Rafael's second visit to the host city of Wuhan this year. With some other 20 officials from CISM, Rafael Pinheiro said China's efforts "should be recognized."
Hassan Awad, President of CISM Sailing Committee, also spoke highly of the China efforts. "I visited the construction work and it is quite relieving to see over eighty percent of the venues for the Games have been constructed," he said.
CISM was created in the winter of 1948 after the World War II, from transformation and extension of the Allied Forces Sports Council, in a period when people felt that there was a need for reconciliation, mutual recognition and respect for human dignity. CISM is now one of the largest multidisciplinary organizations in the world, and organizes various sport events for the armed forces of 138 member countries and regions.
Some 10,000 athletes from over 100 countries and regions will compete in the 7th CISM World Games slated for Oct. 18-27, 2019 in Wuhan.