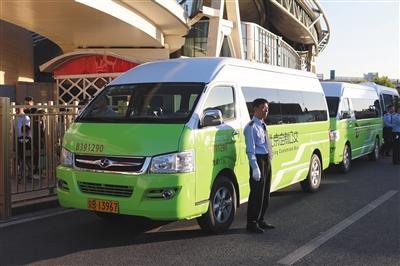 (Photo/ The Beijing News)
An online bus-pooling service, which allows passengers share a bus with people heading to the same direction, has started the trial operations in Beijing on Saturday, September 22, 2018, reports the Beijing Morning Post.
Passengers can hail a bus by the "Customized Bus" App or a mini program in Wechat App. The background platform will then arrange a bus for passengers who share a similar route. The passengers need to pay the fare online and show the e-ticket on their mobile phone to the driver when getting on the bus.
During the trial run, the routes center around the Beijing South Railway Station, providing people with bus trips from the station to other urban areas.
The new "taxi-like" service will operate only if there are enough daily passengers along the route.
The fares of the shared bus are lower than that of taxi, but higher than a normal transit bus.
The Beijing Public Transport Corporation, which offers the bus-hailing service, says it expects the service will be more flexible for riders, as they will no longer need to take buses with fixed routes.