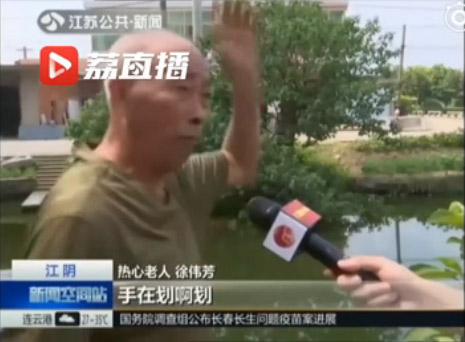 An old man in his 80s saved an 8-year-old boy from drowning in a river in Shiyan village, Jiangyin of East China's Jiangsu province, recently, and by coincidence, the old man also saved the boy's father from the same river 30 years ago.
Around 9 am, the boy accompanied his grandma to pick water chestnuts by the river, and he fell into the water, Jiangsu Satellite TV (JSTV), reported.
Xu Weifang and his wife, who live nearby, heard the call for help, and ran to the site. "The boy was struggling in the water, waving hands on the water surface, when I arrived," Xu said.
His wife helped him in the water that was about 1.7 meters deep and pulled the boy out. The boy was immediately given emergency treatment.
Xu said he knew the boy's grandma, and 30 years ago, he saved her son from the river too.
"When I was young, I could jump into the water to save him, but now I could only walk into the water," Xu said.