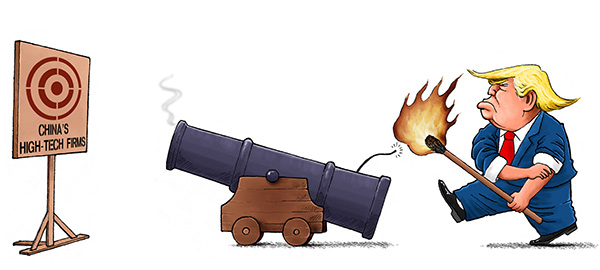 Zhai Haijun/For China Daily
US President Donald Trump suggested on Tuesday that he will ease off his demands for tough new restrictions on Chinese investment in technology industries and will rely instead on an interagency group that screens foreign investments.
Asked "What are you looking at in terms of Chinese investment restrictions?" by reporters at the White House, Trump said, "Well, it's not just Chinese." He said the US has "the greatest technology in the world," and "We have to protect that and that can be done through CFIUS."
CFIUS is the Committee on Foreign Investment in the United States, an interagency panel that considers national security implications of foreign acquisitions of US businesses.
Late last month, the Trump administration issued a statement saying that the US will implement "specific investment restrictions and enhanced export controls" for Chinese acquisition of industrially significant technology.
Specifics of the new investment limits are scheduled to be announced by Friday.
Trump also called recent reports by The Wall Street Journal and Bloomberg regarding new investment restrictions "a bad leak … probably they just made up the story".
On Monday, US Treasury Secretary Steven Mnuchin said media reports detailing plans to impose restrictions on Chinese investment in US companies and on tech exports to China were "false, fake news".