China will implement a 3-year action plan to improve its transport network and services, according to the Ministry of Transport.
The plan reaffirmed China's goals in building a fully-fledged transport network by 2020 when it will reach the goal of building a moderately prosperous society in all aspects.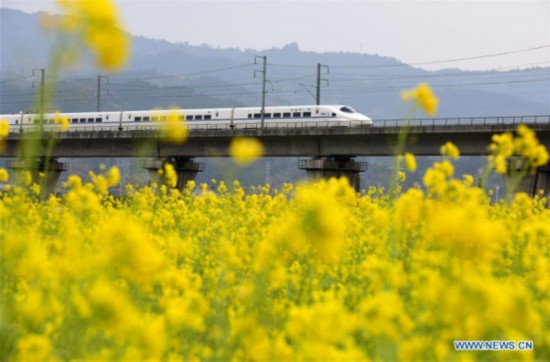 A bullet train is seen above the field of cole flowers in Zhaikou village of Rongjiang county, Southwest China's Guizhou province, Feb 3, 2018. [Photo: Xinhua]
By 2020, China will have 30,000 kilometers of high-speed railway, covering 80 percent of Chinese cities with a population of over 1 million, according to the plan which lists 76 targets.
The country also aims to add some 180 new deep-water berths at its seaports for 10,000-tonne vessels and above.
Integration of transport within the Beijing-Tianjin-Hebei area will be accelerated, according to the plan, as driving time between the cities of Beijing, Tianjin, Baoding and Tangshan will be reduced to within one hour.
Travel time from the urban centers of Beijing, Tianjin and Hebei's capital city Shijiazhuang to their suburban new towns and satellite cities will be also reduced to within one hour.
Similar commuting convenience will be ensured between Beijing and neighboring Zhangjiakou, co-hosts of the 2022 Winter Olympic Games.
Efforts will be made to allow passengers to use one ticket for different transport services including flight, high-speed railway and urban rail transit, according to the plan.