Nigeria beat Iceland 2-0 In their Group D match played in the Volgograd Arena on Friday night thanks to two second half goals from striker Ahmed Musa in the 49th and 75th minute of the game in which Iceland's Gylfi Sigurdsson missed and 84th minute penalty.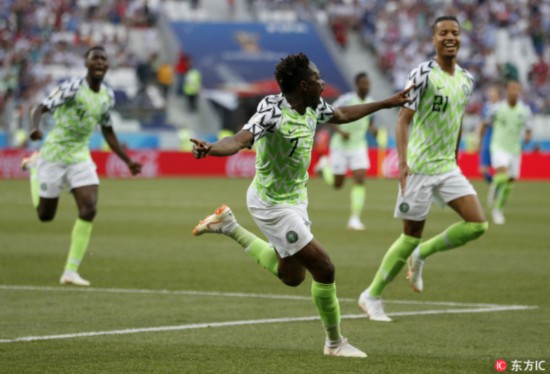 Nigeria's Ahmed Musa, centre, celebrates after scoring his team's first goal during the group D match between Nigeria and Iceland at the 2018 soccer World Cup in the Volgograd Arena in Volgograd, Russia,June 22, 2018. [Photo: IC]
Nigeria deserved the win as they improved dramatically after Musa's opening goal and exploited the spaces left as a tiring Iceland chased an equalizing goal.
The win puts the Africans second in Group D behind Croatia and means they have a great chance of qualifying for the last 16 if they avoid defeat to Argentina in the last group game, although a win for Argentina would see the South American side into the next round and Iceland still have a slim chance of qualifying if they can defeat Croatia.