Since China's charity law came into effect in September 2016, more than 1 billion people have made donations through online charity platforms, according to the Ministry of Civil Affairs.
An article in the People's Daily earlier this week quoted a report by the China Philanthropy Research Institute as saying that in 2017, the 12 online endowment information platforms approved by the Civil Affairs Ministry have raised donations of over 2.59 billion yuan (405 million U.S. dollars), with the charity platform operated by Internet giant Tencent collecting over 1.6 billion yuan.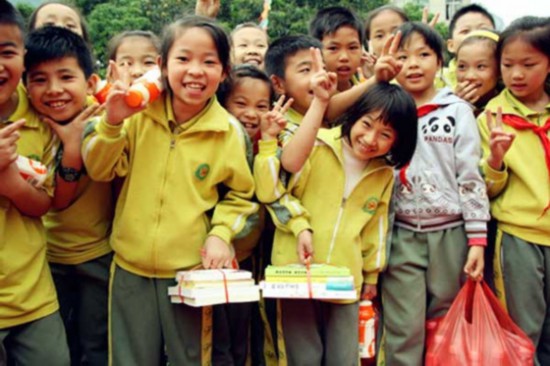 Students in Hechi, Southwest China's Guangxi Zhuang autonomous region, receive gifts given by Xinhuanet and Wahaha Group. [Photo: Xinhua/Zhou Liao]
As of this month, China has 20 such online platforms.
"Compared with conventional charity patterns, online charity is more convenient, accessible, efficient and transparent," Zhao Wenpin, associate professor with the Party School of the Communist Party of China Shanghai Municipal Committee, told the paper.
As of the end of May, the Tencent platform has received about 3.6 billion yuan in funds from 160 million people, channeled to 41,546 projects run by 5,506 charity organizations, according to the platform.
However, the article also noted that as individuals were also allowed to post information to collect donations through these platforms, the authenticity of some were difficult to verify.
Zhao called on relevant platforms to do their share in information disclosure and make more efforts to review the information on their platforms.