Move comes at expense of US-based Westinghouse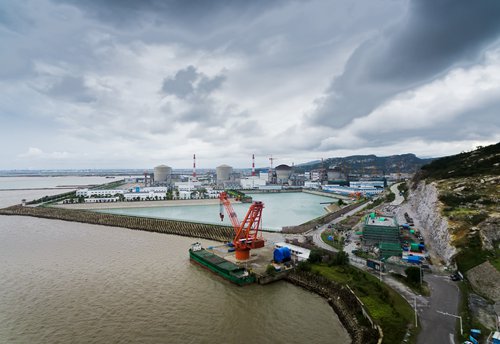 An overview of the Tianwan Nuclear Plant in East China's Jiangsu Province Photo: VCG
Russia's third-generation VVER-1200 nuclear technology will soon make its way into the Chinese market, after a deal was signed between Chinese and Russian companies. The Russian advance could be at the expense of US nuclear firm Westinghouse Electric Co, depriving the latter of a contract worth an estimated 80 billion yuan ($12.5 billion).
China National Nuclear Corp (CNNC) and Russian state nuclear company Rosatom agreed to build a total of four VVER-1200 nuclear reactors at the Tianwan Nuclear Plant in East China's Jiangsu Province and Xudapu nuclear plant in Northeast China's Liaoning Province as part of a 20-billion-yuan nuclear deal, according to a statement posted on the website of CNNC on Friday.
Media reports said on Saturday that the No.3 and No.4 reactors at the Xudapu plant will use Russian technology and construction of them might start before reactors No. 1 and No.2 that will use the AP1000 technology designed by Westinghouse. That means Rosatom has taken a big chunk of the market originally designated for Westinghouse. The Xudapu plant has plans to accommodate six 1 million kilowatt reactors.
"The price tag for a 1 million kilowatt third-generation AP1000 reactor is about 20 billion yuan," Wang Dezhong, a professor specializing in nuclear-related technology at the School of Mechanical Engineering under Shanghai Jiao Tong University, told the Global Times Sunday.
This means Westinghouse could lose out on a deal worth 80 billion yuan if it doesn't get the contract for the four remaining reactors.
Wang noted that choosing the same technological route for most of the reactors in one nuclear plant would offer a lot of operational convenience.
However, there are exceptions to this approach. "Qinshan Nuclear Plant in East China's Zhejiang Province hosts reactors with various different capacities and technological routes," Wang said.
The Sanmen Nuclear Plant in Zhejiang, the first in the world to host AP1000 technology, has been hit by delays, which could bankrupt it, experts warned.
Lin Boqiang, director of the China Center for Energy Economics Research at Xiamen University, said the possible loss of the contract for Westinghouse is probably not a result of trade tension between the US and China, as Westinghouse is bankrupt. Japan's Toshiba Corp is currently in the process of trying to find a buyer for Westinghouse.
"Energy is a key part of Sino-US trade ties, but nuclear cooperation is too time-consuming for the Trump administration, which is eager to see quick results," Lin said.
The application of the VVER-1200 technology will add to China's status as a test ground for the world's third-generation nuclear technologies, and put the Russian technology in competition with homegrown third-generation Hualong One technology, as well as Westinghouse and Europe-based Orano.
As of November 1, 2017, the number of nuclear power units in operation in the mainland has reached 37, ranking third globally, according to data from the Chinese National Energy Administration. China also has 19 nuclear power units under construction and the combined installed capacity from both categories will be 57.5 million kilowatts.
If China still hosts the AP1000 technology at Xudapu, it would be beneficial for the US, Lin said.
"However, both AP1000 and [Orano's] EPR have proved costly to build, and nuclear energy in China is facing strong competition from other clean energy sources such as wind and solar power," Lin said.
The Russian route will also have to prove its cost effectiveness, Lin noted. Three reactors in China use Russian technology and have a good safety record, according to CNNC.