US exaggerates impact of data cooperation with Chinese firms: experts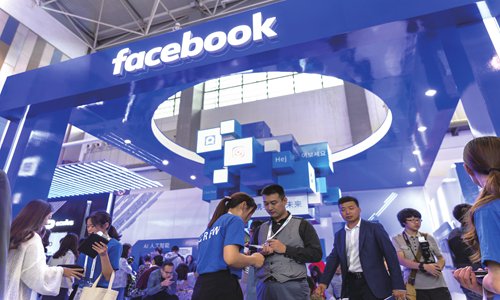 A Facebook booth at this year's Big Data Expo in Guiyang, Southwest China's Guizhou Province, on May 27 Photo: VCG
Huawei on Wednesday said it has never stored any Facebook user data after Facebook reportedly said that it has data-sharing partnerships with four Chinese companies, including Huawei, Lenovo, OPPO and TCL.
"Like all leading smartphone providers, Huawei worked with Facebook to make Facebook's services more convenient for users. Huawei has never collected or stored any Facebook user data," Huawei told the Global Times in a statement.
The other three Chinese companies didn't respond to the Global Times' request for comment as of press time.
Chinese analysts said partnerships between Facebook and Chinese tech firms represent normal business behavior of mutual benefit and should not politicized.
"The US now holds a political attitude toward China's high-technology industry. No matter what the issue is, US politicians tend to relate it to politics and then investigate the issue slowly. Ultimately, the biggest winner is politicians… the biggest victim is the mutual trust and cooperation base of the Chinese and US high-technology sectors," said Fang Xingdong, the founder of technology think tank ChinaLabs.
"When such a base is destroyed by politics, it is US and Chinese enterprises that pay the biggest price. If this causes losses on both sides, US companies will lose more in the Chinese market, compared with Chinese high-technology companies' interests in the US market," Fang said.
The New York Times reported that Facebook said Tuesday that it has data-sharing partnerships with four Chinese companies. The four partnerships, dating back to at least 2010, gave access to some user data to these companies.
Facebook representatives said that the shared data stayed on users' Huawei smartphones, not the Chinese company's servers, according to the report.
However, the US government has expressed its concerns about a potential threat to US national security.
"I look forward to learning more about how Facebook ensured that information about their users was not sent to Chinese servers," the New York Times reported, citing US Senator Mark Warner of Virginia.
Foreign Ministry spokesperson Hua Chunying told a regular press conference on Wednesday that "we hope the US can create a fair, transparent, open and friendly environment for Chinese companies' investment and operation activities in the US."
As an internet company, Facebook shares data with its partners for purely business purposes, Shen Yi, deputy director of Fudan University's cyberspace management center, told the Global Times.
"User data has business value. The analysis of this data can help companies get to know users' preferences and carry out precision marketing. Thus, it's complete nonsense that a US senator worries that Chinese internet companies using the information would threaten US national security," said Shen.
The information involved represents a form of big data, which can't be tracked back to individual users, Fang said. "It's a link of commercial software development, without which, much optimization work will be impacted."
"Mobile application manufacturers need data on terminals and mobile terminals need data on software programs. Only in this way can both sides know how to match applications and terminals to improve users' experience when making upgrades," he said.
"Facebook has strict rules about what data can be provided to its partners and how they can use the data. As [data is] its own core competitiveness, it's impossible that the company would be willing to share data of value with its partners," Fu Liang, a Beijing-based independent telecom industry, told the Global Times.
"Now, everything in the US related to China is exaggerated against the background of trade tensions. It seems that the US believes any cooperation between Chinese and US companies would threaten US national security," Fu said.
"Considering the high degree of synergy between China and the US in the industry chain of the high-technology sector, it would be a great loss for both countries if the US offends China openly," Lu Chuanying, vice research fellow with the Shanghai Institute of International Studies, told the Global Times.