Third and fourth carriers expected to achieve technological breakthroughs
○ Chinese aircraft carrier pilot completes night mission, signaling that China's carrier has initial all-weather combat capabilities
○ Experts estimate that China's third aircraft carrier, currently at the construction stage, will be more advanced than the Liaoningor the Type 001A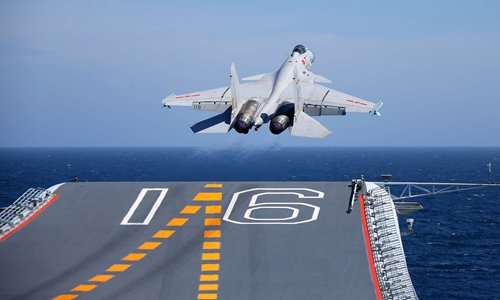 A J-15 fighter jet takes off from China's first aircraft carrier, the Liaoning. Photo: VCG
China's first operational aircraft carrier, known as the Liaoning, recently completed its nighttime takeoff and landing mission, signaling that this carrier has initial all-weather capabilities, a key step toward the formation of practical capabilities for combat.
State television broadcaster China Central Television (CCTV) released a video clip showing a Chinese carrier-borne aircraft taking off and landing at night on May 24. The images revealed that a J-15 aircraft, guided by a deck officer and a takeoff and landing system, successfully completed its operations in the dark nighttime environment. This is the first time that State media has confirmed that the carrier has the ability to take off and land at night.
Beijing-based naval expert Li Jie told the Global Times previously that only when the pilot of a carrier-borne aircraft grasps the ability to take off from and land on an aircraft at night can he become a truly qualified pilot. The Liaoningcan be called a real aircraft carrier only when it has an all-weather combat capability.
Based on the CCTV video clip, Li speculated that there should be at least four pilots who are trained to successfully take off and land at night.
Nighttime missions on aircraft carriers are internationally recognized as far more challenging and dangerous than in the daytime due to limited lighting, blocked vision and psychological pressure. Previously, only the US, Russia, France and the UK had mastered night-time carrier-based aircraft takeoffs and landings.
Chinese experts expect that the next phase of the task will focus on nighttime taking off and landing training in more complex weather conditions.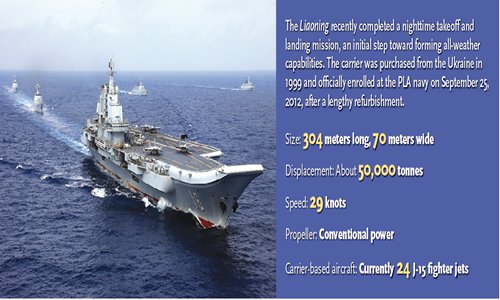 Graphics: GT
Main difficulties
The night landing is reportedly a big challenge for pilots because they struggle to distinguish signal lights. During daytime landings, carrier-borne aircraft pilots rely on Fresnel Lens Optical Landing System (FLOLS), widely used in giving glidepath information for pilots in the terminal phase of landing, with support of the landing signal officer, to achieve a safe landing.
But during the night, due to the lighting control in order to avoid exposure, the references an aircraft pilot can rely on become very limited, which requires pilots to touch down based on the aircraft's own searchlights and the sign lights for the runway, supported by other navigation devices.
"The reason we need to strengthen night flight training is because air operations are now being conducted primarily at night," military expert Wang Mingzhi told People's Daily Online.
Air combat emphasizes high intensity and fast pace, and is generally carried out around the clock to ensure no breathing space for the opponent. Night flight training is therefore an important indicator of the operational capability of an air force, including a carrier-borne aircraft force, Wang said.
Since the task of night landing has been successfully completed, what follows next is night landing training in more complicated weather, Song Zhongping, a military expert and TV commentator, told the Global Times.
According to Li, there are two primary weather dimensions: day versus night and simple versus complicated. The lowest challenge is daytime with simple weather, then daytime with complicated weather; next is night with simple weather, and finally night with complicated weather.
Li added that it is time to speed up cultivating pilots who can perform duties in complicated weather. Only when enough pilots can master such relevant skills can the Chinese aircraft carrier get into the groove for a full-scale strike.
In addition to grasping the key technology of night landing and its specific tactics, Li noted that the most important factor for pilots is to overcome their psychological barriers. He said that a lack of previous experience in landing at night may make a pilot feel confused in a more complicated situation. Psychological strength then becomes a very critical standard to assess their capability.
Second home-made carrier
When Type 001A, China's first domestically built aircraft carrier and the country's second, completed its first sea trial on May 18, Chinese netizens began to expect a third aircraft carrier would be coming out soon.
Several media outlets, including South China Morning Post and the Diplomat, reported that a third aircraft carrier, Type 002, is under construction at the Shanghai Jiangnan Shipyard Group, although it has yet to be officially confirmed.
Song told the Global Times that, according to the development stage of China's weapons and equipment, equipping the present carrier and developing future carriers usually take place concurrently. Following such a schedule, he is convinced that the completion of a sea trial of the second carrier signifies that the third aircraft carrier may have completed its research phase and has stepped into the construction stage.
Experts believe that the first and second aircraft carriers provide knowledge for future projectiles and nuclear-powered carriers.
"Our aircraft carrier technology will become more mature as each achieves progress," Li told the Global Times in an earlier report. "The third carrier is able to use an electromagnetic aircraft launch system from the conventional ski-jump system; the fourth may witness breakthroughs in power units."
Navy development
Military commentator Chen Guangwen wrote on news portal Sina that aircraft carriers not only serve as a deterrent force but also a powerful chip in political games, which can send a strong diplomatic signal.
To join the ranks of the world's great powers, China must spare no effort to develop aircraft carrier combat forces, making its navy a stronger frontier force of a country's deterrence, wrote Chen.
China's naval development has been expedited since the Liaoningentered into service in September 2012. It was reported that, over the past year, the aircraft carrier force has conquered multiple challenges and realized many breakthroughs, including flights from day to night and increasing the quantity from one aircraft to an entire fleet. Multiple batches of J-15 carrier-borne aircraft pilots have attained the qualification certification.
During cross-sea training in April, aircraft on the carrier Liaoningwere on duty around the clock for the first time during training against naval shore-based aviation. This was widely seen as an early signal that these aircraft have gained the ability to take off and land at night. In May, China's Type 001A, completed its maiden sea trial.
"China can be more flexible with two carriers. In the face of long-term maritime security competition, China will gradually expand its maritime interests to include three or four new carriers, at least, to meet its strategic needs," Kang Jie, an assistant research fellow at the China Institute of International Studies, wrote in the Global Times.