China's first privately-developed carrier rocket for commercial use, called Chongqing Liangjiang Star, was launched from a test base in northwest China on Thursday morning, reports thepaper.cn.
Designed by OneSpace, a private domestic space technology company, the nine-meter-long rocket can send a 100 kilogram payload to an altitude of 800 kilometers.
OneSpace says the test launch was successful, and that data collected during the launch is currently being analyzed.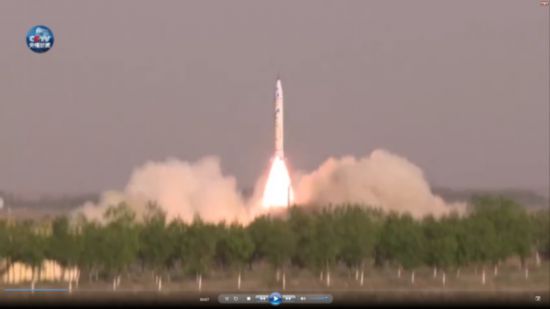 Screenshot of TV footage showing China's first privately-developed rocket, Chongqing Liangjiang Star, blasts off at 7:33 a.m. from a test base in northwest China on Thursday, May 17, 2018. [Screenshot: CCTV]
OneSpace estimates the launch cost for its rockets will be kept at around 10,000 U.S. dollars per kilogram, around one-third of the cost available in the international market.
Founded in August 2015, OneSpace says it plans to produce over 30 of its M-series rockets, and 20 of its X-series rockets by 2020.
A report by Beijing-based investment institution FutureAerospace, over the past three years more than 60 private Chinese firms have entered the commercial space industry with a focus on the production and launch of satellites and rockets. This follows a government policy issued in 2015 to encourage the growth of private space companies.