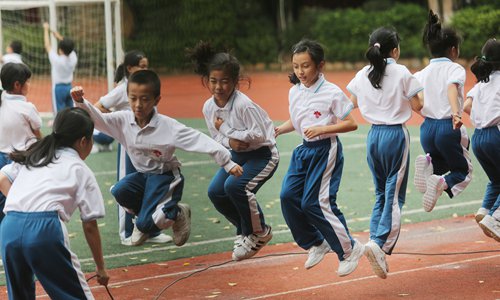 Students in Foshan, Guangdong Province, play rope skipping after class on Thursday. Photo: VCG
Being the loneliest, the most rebellious or globally minded, China's post-00s generation is getting more and more attention at home and abroad.
The generation, born between 2000 and 2010, also carries the expectation of what China would be, and could be in the future, as they will be the major consumers, voters and workers of China's periodic plan to "basically realize socialist modernization" from 2020 to 2035.
The adjectives they mostly choose for themselves are open-minded, confident and independent, according to a report by the China Youth Daily and the country's Internet service giant Tencent earlier in May.
In the survey, 48 percent said they will solve problems themselves, and 25.6 percent revealed they will turn to the internet.
The survey organized by the All-China Students' Federation collected information from over 12,700 questionnaires answered by post- millennials, and also from big data gathered from users of Tencent's social network platform QQ, which has up to 783 million monthly active users.
"We are not scared of being different and that's how we were raised," a 17-year-old male student surnamed Jin, told the Global Times.
Jin is the only child in his family which lives in Wuhan, Central China's Hubei Province.
The teenager aspires to be a bass player in a rock band, a decision his family supports. His father decided to be a university teacher for a "more safe and reliable" life, giving up hopes of a more adventurous career at a young age.
China's millennials have developed different visions of the "good life" to their parents, UK-based Financial Times reported in April.
This generation wants something new from China, and in pursuing it they are changing China, too, the report said, adding that "a quiet revolution is under way."
On the rise
In the face of fierce academic and social competition, parents of the post-00s generation are spending more energy and time to make their children more competitive, Victoria Wang, teacher at a Shenzhen-based education company which offers English training courses to students from kindergarten to senior high school, told the Global Times.
In such a situation, the children are more informed and independent, while the pressure of competition also causes psychological problems such as depression and even suicide and makes some students become less empathetic to things unrelated to them, said Wang.
As China saw rapid social and economic progress since 2000, the society got more divided in terms of wealth and living style. The post-millennials are a vivid example of this phenomenon.
According to Liu Yanlin, a teacher at No.1 Senior High School in Xiangyun county, Southwest China's Yunnan Province, the post-00 students are more lonely than other generations.
As China does not allow all couples to have a second child until 2016, most post-00s, who are 8 to 18, grew up without siblings.
The students seldom talk to each other about their feelings, Liu told the Global Times. But children who are mostly from rural areas, are very clear that studying hard is the only way to change their life and fight for a brighter future, she added.
Another middle school teacher, Lu Luyao who teaches at a private school in Chongqing, however, disagrees.
"Compared with the post 90s, the post-00s are better at expressing their feelings, have a stronger personality, though it differs a lot among individuals," Lu told the Global Times.
The post-00s, mostly teenagers now, are more critical of authority and mainstream ideas as they grew up being encouraged to think independently, said Lu.
Though many post-00s believed they are self-centered in the Tencent survey, only 6 percent said they don't want their parents to have a second child.
The remaining 94 percent said they don't mind sharing their parents' love with another sibling, as long as they "are happy with that."
When asked to evaluate their country, around 73 percent said China, though not perfect, is making constant progress and 6.5 percent said the country is in one of its best moments in history.