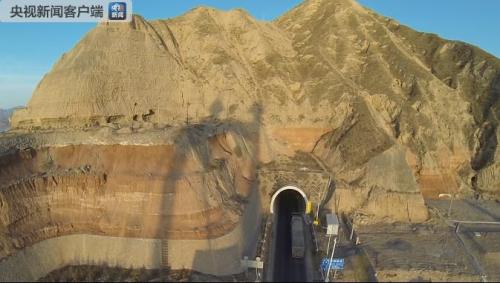 An aerial view of the Zheqiao-Dachuan Highway's Kaole Tunnel section. [Photo/CCTV app]
Six officials were suspended from their posts for investigation after a quality issue was reported in a tunnel on the Zheqiao-Dachuan Highway in Northwest China's Gansu province, according to the provincial transportation authority on Sunday.
The 1.57-billion-yuan ($250 million) highway is a poverty relief project for the national-level poverty-stricken Dongxiang county in the Linxia Hui autonomous prefecture. It was put into operation in December 2013.
As reported by CCTV, the Kaole Tunnel on the highway was originally designed to be constructed with two-layer reinforced steel bars, but it was built with only one layer, leaving a severe safety loophole. It had to be reinforced after the problem was discovered and the revamping was planned to be finished by Nov 28.
But the latest investigation reveals that the tunnel was only painted over by coating instead of being reinforced with steel bars.
After the CCTV report, the Gansu transportation authority also issued an immediate traffic control of the highway's tunnel section and set up a special team for investigation.