China's first space lab Tiangong-1 will mostly be burnt up in the atmosphere and it's highly unlikely to cause any damage on the ground, according to an article published by China Manned Space Engineering Office (CMSEO) recently.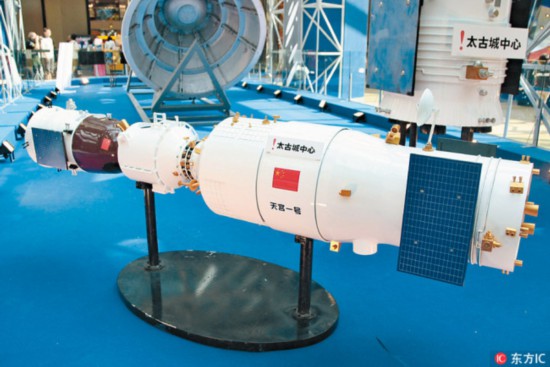 A model of the Tiangong-1 space module. [File Photo: IC]
"There is no need for people to worry about its re-entry into the atmosphere. It won't crash to the Earth fiercely, as in sci-fi movie scenarios, but will look more like a shower of meteors," the article said.
During a meteor shower, about 1,000 to 20,000 meteorites fall to Earth per hour, and the probability of a person being hit by a meteorite of more than 200 grams is one-700 millionth, it said.
The CMSEO announced earlier that Tiangong-1 has seen its orbit decay since it ended its data service on March 16, 2016, and will re-enter the atmosphere between March 31 and April 4.
Tiangong-1, with a weight of about eight tons, is much smaller the 80-ton Skylab and 140-ton Mir, and is unlikely to affect aviation activities or cause damage on the ground, the article said.
The re-entry process is usually divided into three phases. During the first phase, the atmospheric drag will rip solar arrays, antennas, and other external parts off a spacecraft at an altitude of about 100 kilometers.
As it continues to fall, the main structure of the spacecraft will get burnt or exploded with increasing heat and friction. It normally disintegrates at an altitude of about 80 kilometers.
The fragments will keep burning and most of them will get dissipated in air. Only a small amount of debris will reach the ground, and will float down at a very slow speed due to their small mass.
The surviving fragments will most likely fall into the oceans, which cover more than 70 percent of the Earth's surface, instead of hitting densely-populated areas, the article said.
More than 15,000 tons of spacecraft debris have fallen to Earth since the 1960s, but no people have ever been hurt by it, the article said.
Lisa Ruth Rand from the University of Wisconsin-Madison also believes that it's unlikely that anyone will be hit by the debris of Tiangong-1.
"When an object like Tiangong-1 falls back to Earth, the atmosphere subjects it to friction and pressure. This breaks apart larger objects into fragments, vaporizing and dissipating quite a bit of material in the process," Rand told Xinhua in an email.
Tiangong-1 has docked with Shenzhou-8, Shenzhou-9, and Shenzhou-10 spacecraft and undertaken a series of tasks, making important contributions to China's manned space cause, the article said.