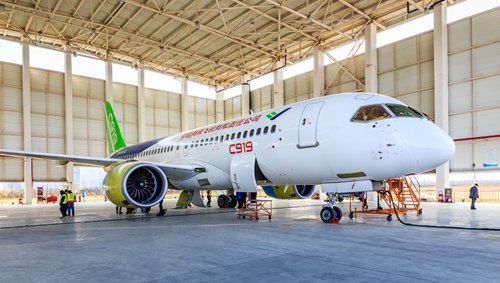 China's second domestically-developed large passenger jet C919 of COMAC (Commercial Aircraft Corporation of China) is pictured in a hangar before its first test flight at the Shanghai Pudong International Airport in Shanghai, China, December 13, 2017. Photo: IC
According to ancient legend, the Chinese engineer Lu Ban is believed to have created a flying wooden bird.
Today, Zhao Boyou has taken up his mantle, making "nests" for aircraft.
"People need to rest after working hard. So do aircraft. Jumbos need spacious hangars," says Zhao, 47, vice chief structural engineer of the China Aviation Planning and Design Institute (CAPDI) of the Aviation Industry Corporation of China, Ltd. (AVIC), the State-owned aviation giant.
His team is constructing a large column-free hangar for Beijing's new airport that will be able to hold about 11 civil aircraft.
"We make hangars for aircraft to undergo 'health checks', maintenance, repairs and overhauls," says Zhao.
The maintenance hangar for China Southern Airlines will set an Asian record, measuring 405 meters across, 100 meters deep, and with a clearance height of 30 meters.
It will be about 46 meters wider than the current Asian record holder: the A380 hangar at Beijing International Airport, also made by CAPDI.
"It will be able to hold two A380 jumbos, three B777 wide-body aircraft and six narrow-bodies, such as the B737 or A320," says Zhao, sketching a rectangular building to illustrate. "And about 1,200 tons of maintenance facilities will be suspended from the roof."
Boom period
CAPDI has designed more than 95 percent of the civil aircraft maintenance hangars in China, and all the paint hangars.
China's civil aviation industry is mushrooming in fleet size as well as passenger and cargo loads.
At the end of 2017, the civil fleet stood at 3,296 aircraft and the industry logged more than 10 million flight hours for the first time, according to the Civil Aviation Administration of China (CAAC).
"After arriving at your destination, have you ever thought about where the plane goes?" asks Zheng Yingping, executive deputy director of the Civil Aviation Engineering Design and Research Institute of CAPDI.
"It's the hangar, a place for aircraft to undergo rest and restoration for the next trip. Safety is the lifeline of civil aviation, and the hangar is a critical point for ensuring safety," Zheng says.
Beijing's new airport, which was built to relieve pressure on Beijing International Airport, is located 46 kilometers from the downtown area and is expected to start test operations in late 2019.
But more airports means more pressure on construction land.
The long-span hangar is the "secret weapon", the most feasible and economical solution to meet these challenges, says Zheng.
Bigger and better
"We are exploring creative methods to make hangars that are bigger and longer but lighter and stronger in structure," says Zhao.
The long-span hangar is more than just a "big building with a massive roof."
It is a functional building with many cradles and suspension maintenance equipment, tailored for huge aircraft bodies and maintenance services.
An array of pipelines must supply power, water, ventilation, gas and other necessities.
"It is a huge challenge for engineers to balance strength and flexibility," says Zhao.
Numerous other factors such as costs, land area and time limits have also been taxing their minds.
As hangars are mostly built near runways, height is severely restricted. However, traditional hangars have "big heads," a gate truss structure to support the roof.
But the cost of a "big head" for the super hangar was prohibitive.
"We tried and experimented time and again. Finally, we came up with a creative design that adopted high-strength cables for leverage," says Zhao.
The patented design could also use about 1,500 tons of steel less than the traditional design, enough to build a hangar roof the size of a football field.
CAPDI has previously set records with the 80-meter maintenance hangar in Guangzhou in 1985, the 352-meter A380 hanger in Beijing in 2005, and a group of hangars at Shanghai's Pudong International Airport in 2006.
"China has ambitions to integrate into the global aviation industry chain. China-developed aircraft are flying overseas, and so are our creative designs and engineering services," says CAPDI chairman Lian Dawei.
"We've cast our eyes on the markets of Africa and Southeast Asia, supporting them to fly higher with 'China span' and 'China speed'."