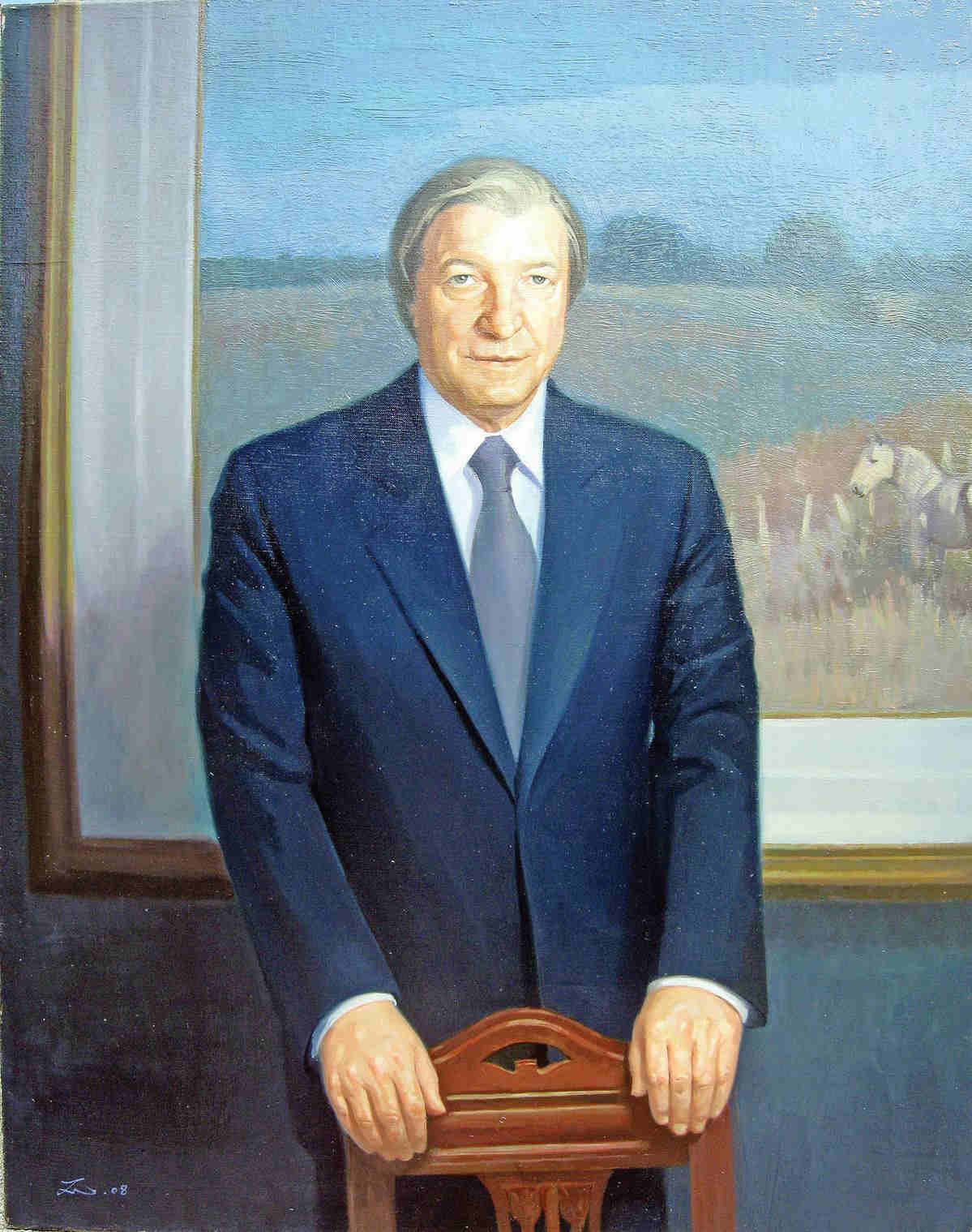 Charles Haughey was prime minister three times. Photo provided to China Daily
A series of portraits of all the former prime ministers of Ireland is up for auction this week — and it has emerged that the painter, known by the assumed name Johnny Wilson, is an artist from China.
Twelve years ago, Dublin grocery store owner Peter Dwan commissioned Zhang Yi, a Chinese artist living in the city, to paint portraits of the 13 people who have served as prime minister.
This week, the collection of paintings is going under the hammer at the Heritage Killenard hotel in Portlaoise, around 90 kilometers southwest of Dublin, with bidding for the set starting at 30,000 euros ($36,920).
Zhang, who is 36 years old, moved to Ireland in 2000 and adopted the name Johnny Wilson because it was easier for people to remember and pronounce.
He came up with the name after watching the Tom Hanks film Cast Away, which features a letter to a man called Johnny and a volleyball made by sports equipment company Wilson. All 13 oil paintings are signed with the initials J.W.
"Johnny came into my shop and we got chatting," Dwan said. "I warmed to him and took him under my wing. I thought I'd give him an opportunity to help him to pay his expenses."
Between 2006 and 2012, Zhang painted portraits of former Irish leaders: WT Cosgrave, Eamon de Valera, John Costello, Sean Lemass, Jack Lynch, Liam Cosgrave, Charles Haughey, Garret FitzGerald, Albert Reynolds, John Bruton, Bertie Ahern, Brian Cowen and Enda Kenny.
Zhang worked from photographs of the former leaders, and he says he gained a deeper understanding of Irish history and politics while researching the series.
"It's great that they are up for auction," Zhang said. "Peter helped me a lot, and I hope they sell well so he gets his investment in me back."
Dwan says his favorite portrait is of Charles Haughey which he says displays "great presence". Haughey served as prime minister on three occasions, most recently from 1987 to 1992, before his death in 2006.
"It is a unique collection," Dwan said. "I don't think that any other artist has painted all 13 prime ministers."
Zhang grew up in Shanghai, where his mother is an acupuncturist and his father works on a passenger ferry.
He received lessons from a private art tutor while in high school, and trained further at the Dublin Institute of Art and Design and the National College of Art and Design, before moving back to Shanghai to open an art studio. He now lives in San Francisco and is producing work for private collectors.
"He's a very humble man and a very fine young artist, his work is just stunning to look at," Dwan said.
Dwan chose to sell the collection as it is too big to display in his home, though he is keeping a copy of a Caravaggio that Zhang painted for him.
Zhang has agreed to complete the collection for whoever buys it by adding a portrait of Ireland's current prime minister, Leo Varadkar.