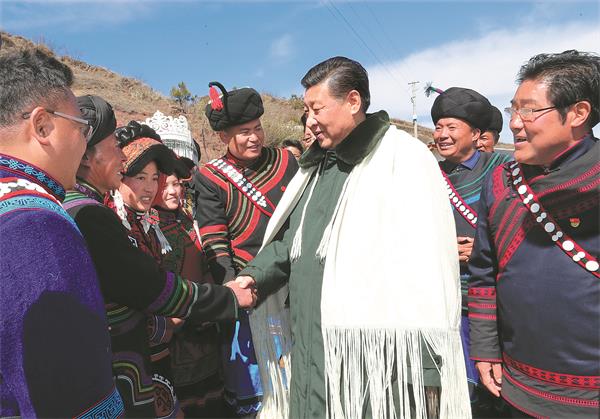 General Secretary Xi Jinping greets local residents in Sanhe, a village in Zhaojue county, Sichuan province, on Sunday. Ju Peng/Xinhua
General secretary takes his message to impoverished villages in Sichuan.
Communist Party of China Central Committee General Secretary Xi Jinping paid a visit to poor families in a mountainous area in Sichuan province on Sunday, where he talked with villagers about poverty reduction, ahead of the upcoming Spring Festival.
Xi spent two hours on a bus traveling from Xichang to Sanhe and Huopu villages, both in Zhaojue county in the Liangshan Yi autonomous prefecture in southwestern China, on Sunday morning.
Since the CPC's 18th National Congress in late 2012, Xi has visited poverty-stricken areas ahead of Spring Festival every year. Shortly before last year's Spring Festival, he visited poor families in Zhangjiakou, Hebei province, to talk with the people about how to increase their incomes.
In February 2016, Xi visited Jinggangshan, home to the CPC's first rural revolutionary base, in East China's Jiangxi province, to inspect poverty alleviation work there. During his visit he said that the country should not leave any impoverished family or person behind.
"Measures and work to alleviate and eliminate poverty must be precise. Policies should be made according to the (needs of) households and individuals," Xi said in Jinggangshan.
In December 2012, shortly after he was first elected general secretary of the CPC Central Committee, Xi paid a visit to impoverished Fuping county in Hebei province, where he chatted with farmer Tang Rongbin at his village home.
"The most arduous task facing China in completing the building of a moderately prosperous society is in rural areas, especially poverty-stricken regions," Xi said during the trip.
The CPC has made a solemn promise to lift all rural residents living below the current poverty line out of poverty by 2020. It will be the first time in China's thousands of years of history for extreme poverty to be eliminated.
The number of people living in poverty in rural areas was reduced by over 10 million last year, Xi said in his 2018 New Year address.
While discussing with lawmakers from Sichuan during the annual session of the National People's Congress last March, Xi said that it was a heartbreaking moment when he read the news about pupils from the province who had to climb dangerous mountains to go to school every day.
The whole process of poverty reduction requires tailored poverty relief policies and precise measures, and sometimes patience and accuracy akin to "doing embroidery", Xi told the lawmakers of Sichuan.