Robust external demand boosts confidence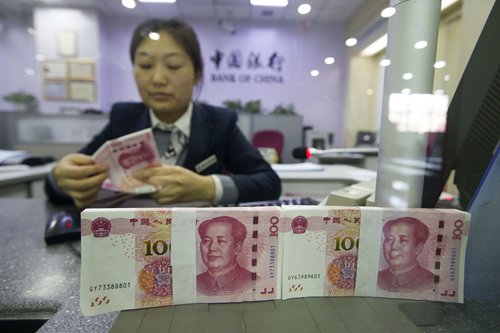 An employee counts bank notes at a bank in Taiyuan, capital of North China's Shanxi Province on Thursday. Photo: VCG
The yuan has continued its rising trend in 2018 and a domestic trader told the Global Times on Sunday that he feared it might soon cause negative effects for his exporting business.
However, an expert said that strong external demand might offset any influence on exports from the exchange rate change.
The yuan's central parity rate strengthened by 160 basis points to 6.2885 against the US dollar on Friday, according to data from the People's Bank of China, the central bank.
In January, the yuan strengthened by about 3.4 percent against the US dollar, the strongest one-month rise in about 24 years.
The yuan appreciated by roughly 6 percent against the US dollar in 2017, having previously suffered a decline since mid-2015, when the government launched reforms to establish a more market-oriented central parity exchange rate mechanism.
A rising yuan exerts negative pressure on exports by making them more expensive for overseas buyers, but it is beneficial for imports, according to industry experts.
Export slump
Zhang Zhibin, general manager of Shanghai Yonggang Commodities Co, a steel exporter and iron ore importer, told the Global Times on Sunday that there has not yet been any clear impact on exports from January's rise in the yuan.
However, "I expect the negative influence will manifest itself more clearly in February or in March," he said.
According to Zhang, his company's exports of steel slumped by more than 45 percent on a yearly basis in 2017, partly because of the yuan's rise and partly because high domestic steel prices have caused overseas buyers to search for alternatives.
But he noted that overall, his company's business has not been severely influenced by the exchange rate, because his company has a balanced import and export structure.
"There are ways for traders to deal with the exchange rate. For example, if the dollar is rising, an importer usually chooses to settle US dollar transactions at a later time," he said. But for his company, he still preferred a more stable exchange rate.
"The exchange rate always changes, and you can't get long-term profits on the exchange rate unless you can make correct predictions about the trend," he said.
Rising demand
Despite the rising yuan, China's overall exports are still showing strong momentum. China's exports and imports surged by 7.9 percent and 15.9 percent, respectively, in 2017 on a yearly basis, customs data showed on January 12. This represented a strong rebound from the 7.7 percent decline in exports and the 5.5 percent decline in imports in 2016.
Zhou Yu, director of the Research Center of International Finance at the Shanghai Academy of Social Sciences, said that rising external demand as a result of the recovering global economy has offset the influence of the depreciating US dollar.
"In the future, if the yuan continues its rising trend against the US dollar, the pressure on China's exports, particularly to the US, will increase, but that does not necessarily mean that exports must decline as the external demand might still be very strong," Zhou noted.
He predicted that the yuan might rise further against the US dollar this year, but to a lesser extent than was seen in January.
"The government may be tolerating the yuan's rise because of its wish to amend China's trade gap with the US, which has caused some protests from the US government in recent years," Zhou said, adding that a rising yuan would also prevent capital outflows and boost outbound tourism.