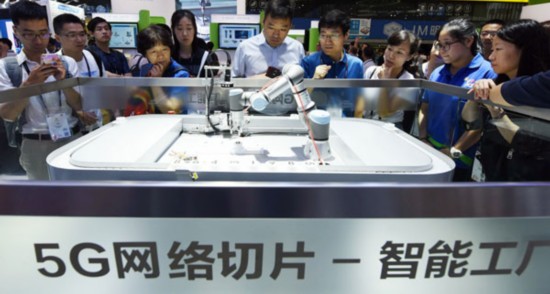 Visitors observe a 5G-supported robot at a high-tech exhibition in Shanghai. [Photo by Long Wei/For China Daily]
Large-scale testing of next-generation network to precede commercial launch
The nation will step up its push to commercialize fifth-generation mobile communication technology, with 5G-ready smartphones likely to come out in late 2019, experts said.
The comments came as the country aims to get pre-commercial 5G telecom equipment ready by the end of this year, to lay a foundation for large-scale testing of 5G applications and services in 2019.
Wang Zhiqin, an expert with the Ministry of Industry and Information Technology, said, "Given that the first version of 5G standards will come out in June this year, we expect system equipment, including base stations and network gears, will be able to achieve the pre-commercial level by the end of 2018."
"But it will take a longer time to develop 5G-ready chips, and 5G smartphones will only be possible after June 2019," he said on the sideline of a conference on Tuesday. Wang is deputy head of the China Academy of Information and Communications Technology, a think tank affiliated with MIIT.
China is striving to accelerate the research and development of 5G, as the super-fast technology is forecast to drive 6.3 trillion yuan ($979 billion) of economic output in the country by 2030.
On Tuesday, MIIT unveiled the technical requirements for third phase 5G tests and encouraged companies to conduct more research into the integration of chips, systems and other instruments.
China Unicom, the country's second-largest telecom carrier, said it plans to conduct 5G tests in seven areas, including Beijing, Shanghai, Tianjin and Xiongan.
Wen Ku, director of the telecom development department at MIIT, said more efforts will also be made to promote R&D in low, medium and high-frequency bands, and to accelerate the push to test different 5G applications.
Kalvin Peng, head of R&D at Ericsson Northeast Asia, said pre-commercial 5G services require the interconnection of different gadgets and systems.
"It is easier to adjust the systems to match the first version of global 5G standards than to adjust hardware. And once companies are determined to test chips, it will take a huge amount of money. As a result, 5G chips will come out very slowly," Peng said.
The Swedish telecom service provider is working closely with China Mobile, the largest telecom carrier in China, on 5G research. In December, the two sides finished all tests on a 5G core network laboratory initiative.
Ericsson said it expected there will be at least 1 billion 5G users in the world by 2023, with mobile data traffic surging eightfold by that time.
On Wednesday, the company unveiled a solution to meet consumers' rising demand for better indoor connectivity. The new gadget, dubbed Ericsson 5G Radio Dot, is designed for enhanced mobile broadband and to boost indoor network coverage.