High-speed railway is expected to cover 80% of major Chinese cities in 2020. This has been detailed at a China Railway Corporation conference in Beijing on January 2, 2018, reports thepaper.cn. A review of the works done by the CRC last year, and plans for 2018, have been detailed.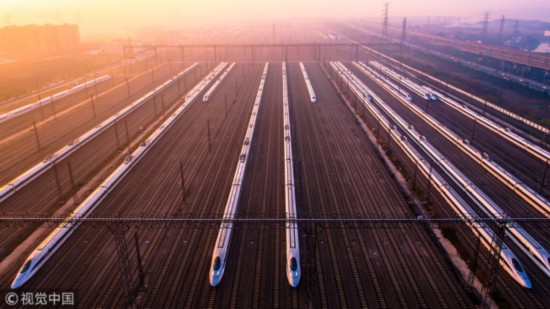 Photo shows high-speed trains at a maintenance base in Wuhan, Hubei Province on December 5, 2014. [Photo: VCG]
China's high-speed rail tracks will hit about 30,000 km by 2020, covering more than 80% of the large cities with populations over one million people.
A report released at the CRC conference suggests China's railway technology standards and equipment levels have improved significantly.
By the end of 2017, there were 127,000 kilometers of rail across China, 25,000 kilometers of which is high-speed rail, which accounts for two-thirds the world's total high-speed railway.
In 2018, China Railway Corporation plans to serve 3.25 billion passengers and to transport 3.02 billion tons of cargo.