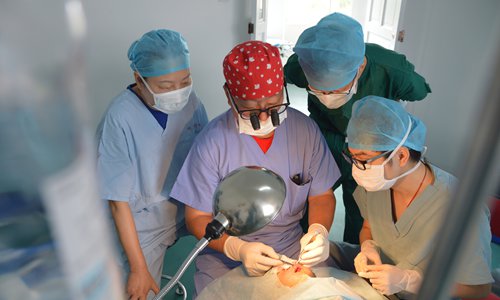 Doctors perform an operation on a child in Tibet. Photo: IC
For years, a mystery illness had given Lurong Dregar, 19, severe headaches and seizures, and even left the young Tibetan woman blind in her left eye. It was not until earlier this year when she underwent an MRI scan at a hospital in Xichang, some 500 kilometers away from her home, that doctors finally found the culprit - a parasite.
Bumpy mountain roads meant Dregar and 46 other locals from the Tibetan Autonomous County of Muli in Liangshan prefecture of southwest China's Sichuan Province had to travel more than two days to get the brain scans.
Eleven of them, including Dregar, were confirmed to be infected with cysticercosis, a fatal but common parasitic tapeworm disease that affects China's herding communities.
"The incidence is quite high even for infectious diseases," said Su Guohua from a hospital in the prefecture.
The disease is usually acquired by eating food or drinking water contaminated with tapeworm eggs from feces. It mainly affects herding areas in China's Gansu, Inner Mongolia, Ningxia, Qinghai, Sichuan, Tibet and Xinjiang.
Matter of urgency
Local authorities in many regions are providing medication to infected residents at no charge, but patients with acute symptoms need more urgent help.
The free MRI scans Dregar and the others received were sponsored by a joint project between China and the United States. In April 1987, Tibet's capital Lhasa established a sister city relationship with the US city of Boulder, Colorado.
Since then, the two have partnered in various programs to improve education in health care, environmental protection as well as art and culture in Lhasa and other Tibetan areas in China.
"MRI brain scans are the best method to detect the disease," said Dr. Li Tiaoying at the Sichuan Center for Disease Control and Prevention. To relieve Dregar's anguish, an immediate surgery was needed because the MRI discovered cysts and severe hydrocephalus.
The surgery cost about 9,000 yuan ($1,377), which Dregar's family was unable to afford. Bill Warnock, CEO of the Boulder-Lhasa Sister City Project, agreed to cover her surgery with donations from the project.
The five-hour operation in November was a success, and a month later, her brain pressure finally went back to normal.
"We never thought we could receive help from the United States. They gave us hope," said Dregar's father.
Warnock has visited Tibetan areas 23 times over the past three decades. Having participated in several medical programs in the region, he knows exactly how much medical treatment lags behind there.
As cysticercosis infection can be prevented through good personal hygiene and sanitation, Warnock has made it the project's next key task.
"I am very excited about this project. I think it's going to be a big chance for them to have a successful future," said Warnock.
"Next year, we plan to focus on prevention of cysticercosis through education of rural doctors working in prevalent areas of Sichuan Province."
Xinhua
Newspaper headline: Partnership of hope