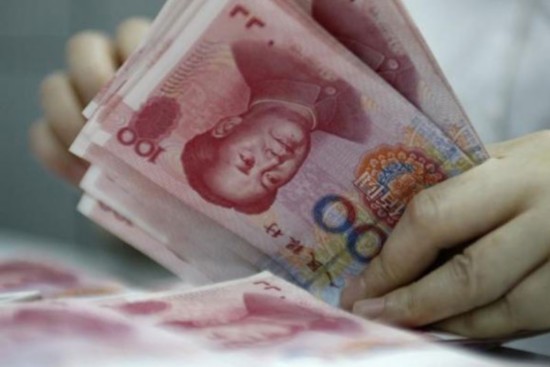 An employee counts yuan banknotes at a bank in Huaibei, Anhui province, June 22, 2010. [Photo/Agencies]
Central bank governor reiterates that prudent monetary stance will remain
Chinese central bank has innovated another policy tool to avoid a temporary cash shortage during the upcoming national holiday, while bearing in mind that too much money supply is the origin of asset bubbles that threaten financial stability.
The People's Bank of China, the central bank, introduced a new measure, the first in the world, called the "Temporary Reserve Utilization Facility", on Friday to unfreeze more cash for commercial banks during the seven-day Spring Festival holiday starting from Feb 16.
National commercial banks, including the "Big Five" and joint-stock commercial banks which will see a relatively large amount of cash withdrawals, are allowed to free up to 2 percent of their deposits that must be reserved in the central bank, or the "Legal Deposit Reserves", temporarily for up to 30 days, when they expect a shortage of money during the holidays, said a statement on the PBOC's website.
But it cannot be seen as a signal that the central bank will ease the overall monetary policy, as it is only a temporary measure to crack down on potential liquidity risks, according to analysts.
Central bank governor Zhou Xiaochuan reiterated in a New Year speech on Sunday that the "prudent monetary policy" would remain, and keep credit and total social financing growth at a "reasonable" rate.
Controlling the money supply is identified as one of the policy priorities to tame asset bubbles and reduce debt levels, according to the recent Central Economic Work Conference.
For the central bank of the world's second largest economy, balancing multiple targets, including controlling financial risks, supporting real economic growth, and advancing financial reform, is more like juggling balls, which requires policy innovations based on the country's special situation other than simply following traditional ways, said Zhang Monan, a researcher with the China Center for International Economic Exchanges.
As calculated by some financial institutions, the new facility is likely to release 1 trillion yuan ($153 billion) to 2 trillion yuan more into the money market. In 2017, cash withdrawals rose by around 1.8 trillion yuan during the month of the Spring Festival, according to a research report from CITIC Securities.
A similar innovation took place in January 2017, also during the Spring Festival, when the PBOC decided to use Temporary Liquidity Facilities (TLF), another unconventional monetary policy tool.
"This year's policy can be seen as an update of the TLF and it can have stronger effects on encouraging bank lending when they feel liquidity pressure," said Nie Dan, a professor of finance at East China Normal University.
Meanwhile, starting from Monday, some commercial banks which issue a certain level of loans to support small- and micro-sized enterprises, startups and agriculture, can enjoy a drop of 0.5 to 1.5 percentage points of the required reserve ratio, meaning a further "targeted" easing of liquidity that is expected to release more than 100 billion yuan.
The easing of liquidity will directly reduce borrowing costs in the interbank market, which is indicated by Shanghai Interbank Offered Rate, as commercial banks will have more money to lend, which can then lift bond prices, according to Ming Ming, an analyst with CITIC Securities. The three-month Shibor boosted to a record-high since February 2015 on Friday, reflecting liquidity pressure at the end of 2017.
For the stock market, sufficient liquidity will boost investors' confidence and support a rise of stock prices in the short-term, said analysts.