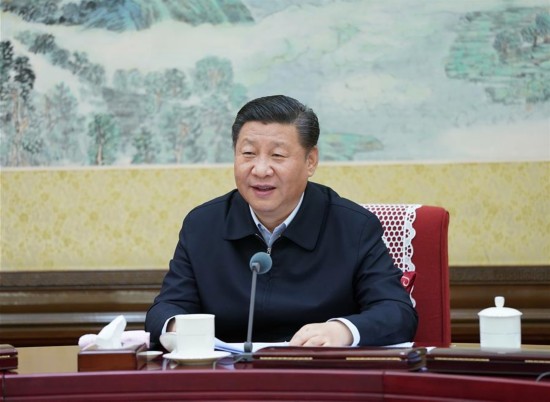 President Xi Jinping, also general secretary of the Communist Party of China (CPC) Central Committee, makes remarks at a meeting with members of the Political Bureau of the CPC Central Committee held on Monday and Tuesday. [Photo/Xinhua]
Political Bureau members are told to focus on frugality and integrity
General Secretary Xi Jinping urged the Party's senior officials to take a leading role in maintaining the unified leadership of central authorities, boosting frugality and fighting corruption.
Xi made the remarks at a key meeting attended by members of the Political Bureau of the Communist Party of China Central Committee. The meeting was on Monday and Tuesday.
Maintaining the authority and unified leadership of the CPC Central Committee is essential to the success of the country's progressive experiences in recent years, Xi said, adding that it should be a fundamental discipline for members of the Political Bureau to maintain the unified leadership of central authorities.
The CPC's 19th National Congress set the direction and new goals for the Party and the country's development, and it is of great importance to implement the spirit of the congress, Xi said, adding that practical efforts are needed to do so.
The congress, which concluded in late October, elected a new CPC Central Committee and drew the blueprint for the Party and country's development for the coming decades.
Noting that formalism and bureaucracy are enemies of the Party and the people, Xi told the senior leaders to play a leading role in opposing undesirable work styles such as formalism, bureaucracy, hedonism and extravagance.
Xi urged Party leaders to keep an eye on their family members to prevent them from gaining benefits by leveraging their political power.
Given that great changes have taken place in China's domestic and international environment, and that the country's developmental stage and tasks have also been changed deeply, the Party's ability to govern must be greatly improved, Xi said, adding that Party officials should be brave and shoulder their responsibilities in addressing risks.
During the conference, the senior officials offered criticism inwardly and outwardly, examining their behaviors to safeguard the CPC Central Committee's authority and unified leadership, practicing the eight-point frugality rules and implementing decisions reached at the 19th CPC National Congress.
The senior leaders concluded that members of the Political Bureau should play a leading role in studying Xi Jinping Thought on Socialism with Chinese Characteristics for a New Era, which is the spiritual guideline for the Party's development going forward.