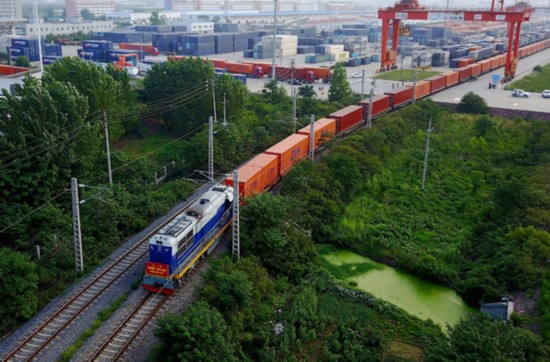 A China Railway Express train hauling cargo en route to Europe leaves the Zhengzhou Railway Station's cargo center in early August. China-Europe freight service this year has made more trips than all previous years since the service began in 2011. [Photo/Xinhua]
The establishment of international and intercity coordination agreement has enhanced rail freight service between China and Europe this year.
The freight service linking China and Eurasia, China Railway Express, is seen as a critical to boost trade and economic ties. National rail operator China Railway Corp's latest figures show there had been 6,000 freight train trips to or from China and Europe by October, and more than 3,000 of those were in 2017. This is more than the total number of trips in all the previous years of service since its 2011 launch.
The growth has been attributed to an international collaboration agreement that sets specific rules and procedures in place, according to China Railway Corp.
The first meeting among countries to improve collaboration on CR Express was held in Zhengzhou in October, to reach agreement and promote a long-term, steady, effective and efficient cooperation.
The meeting discussed major obstacles and plans for the freight service, including a work plan for next year and a way to implement rules for cooperation.
In April, a collaboration agreement was signed by railway departments in seven countries involved in the operation of CR Express, including China, Germany, Russia and Poland. The agreement aims to improve service and efficiency of the freight trains.
CR Express has 57 routes to and from 35 Chinese cities to and from 34 European cities in 12 countries, according to the company.
The collaboration not only involves countries, but also domestic stakeholders. In May, a committee consisting of 33 stakeholders of CR Express was launched. The committee, initiated by China Railway Corp, includes a number of companies operating the service as well as research institutes.
"The committee will work to improve the quality and efficiency of the service to better serve the Belt and Road Initiative," Li Wenxin, deputy general manager of China Railway Corp, said at the launch ceremony.
Measures to be taken include establishing transfer hubs to assemble container cars for a train trip as needed, launching an international information service and opening the hotline number 95306 for clients to check on cargo.
Also, a cold container information center will be launched, allowing customers to rent cold storage containers and develop a logistics plan.
Li said the new committee could work as "a coordination platform at the enterprise level" and promote the development of CR Express.
"The committee will stick to the principles of improving communication and sharing and improving logistics with the aim of solving challenges in operating CR Express, such as further reducing logistics costs and improving the service's quality," he said.
Local railway operation companies have also experienced the local growth of CR Express.
Some 1,305 CR Express services have been carried out by Chengdu Railway Corp, gradually forming an international logistic gateway in southwestern regions. A "single window" service serving CR Express was established in May. Customers can handle all paperwork related to the freight train service, such as customs clearance, at one window.
In China's northern Erlianhaote border, the railway department built a fast pass lane. The time a CR Express train must stop in Erlianhaote has been reduced by five hours to build the China-Mongolia-Russia economic gateway.