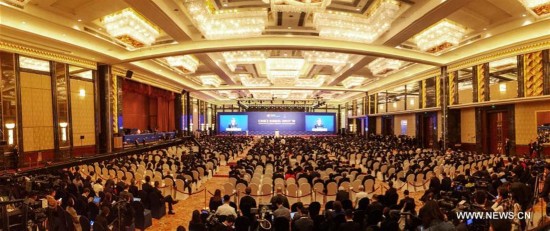 The Fortune Global Forum is held in Guangzhou, capital of south China's Guangdong Province, Dec. 6, 2017. (Xinhua/Liu Dawei)
GUANGZHOU, Dec. 7 (Xinhua) -- If the speakers' list of the Fortune Global Forum is an indication of where money flows, it supports the view that China's internet sector is a gold mine.
This year, Alibaba Group founder and chairman Jack Ma, Apple CEO Tim Cook and Tencent CEO Pony Ma were among the first business leaders to speak before the 1,100 attendees at the annual event held in Guangzhou from Dec. 6 to Dec. 8.
The two Mas, who are not related, were nowhere to be found at the previous four Fortune forums held in China, the last in 2013. But the past few years have seen the rapid expansion of their internet empires, positioning them firmly among the ranks of China's richest men.
Alan Murray, editor-in-chief of Fortune magazine, said technology is reshaping the business world in ways never seen before.
Jack Ma's fortune shot up with his immensely popular e-commerce platform Taobao. In 2014, Alibaba set the record for the largest IPO when it went public in the United States, and it is now estimated to have a market value of more than 400 billion U.S. dollars, trailing Amazon.
But when Murray asked Ma whether Amazon was the most dangerous competitor in Alibaba's quest to conquer the world, Ma responded: "Amazon is an e-commerce company. We are not. We enable other people to do e-commerce so that everybody can be Amazon."
"In the next thirty years, the world will be about those companies that can make full use of the internet," he said.
Inspired by Alibaba's success and encouraged by Ma's words, Chinese entrepreneurs are trying their luck, digging for new gold in the internet sector and fiercely competing to find the next profitable business model. This has unleashed unprecedented innovation and driven the economy.
ONLY IN CHINA
JPMorgan managing director and vice chair of Asia Pacific Jing Ulrich said on the sidelines of the forum that the Chinese economy performed better than expected this year due to a rise in consumer spending and the growth of the new economy, which includes the internet sector.
A report released by the Boston Consulting Group (BCG) in September said Internet-related activities account for 6.9 percent of China's GDP. Both e-commerce and online finance surpass their U.S. counterparts in revenue size and relative share.
Apple's Cook did not hide his excitement from his visits to Chinese tech startups. He said China is already incredibly innovative in so many areas and there are apps and business models that could only have been created here.
The BCG report said China's 700 million internet users are younger, more mobile, and more likely to live in rural areas than their U.S. counterparts.
Zeng Guangming, chief content executive of Chinese video and picture sharing social app Kwai, or Kuaishou, said its daily active users number 100 million, most of whom are in small towns and in the countryside. Around 10 million new videos are posted online through the app every day.
"Our engineers learned the technology from Silicon Valley, but it is only in China that we can use the technology in video sharing and create a business of this scale," Zeng said, while sharing the story with forum participants. "Mobile internet infrastructure connects millions of Chinese in rural areas to the web where their creativity (in video-making) flourishes."
GOING GLOBAL
This year, Fortune magazine included three Chinese internet companies -- Alibaba's mobile payment affiliate Ant Financial, Tencent's ubiquitous app Wechat and bike-sharing startup Mobike -- on its "Change the World" list of 50 companies with positive social impact.
While innovating at home, Chinese internet companies have also broken new ground overseas.
Alibaba's Aliexpress, an online platform that connects Chinese small businesses with foreign customers, claims to have set up warehouses in a number of countries from Russiato Argentina, cutting delivery time.
Aliexpress is becoming popular, claiming 60 million active buyers in 220 countries and regions.
Ma said he flew nearly 1,000 hours this year to visit government offices and meet businessmen around the globe, urging them to build internet platforms that can empower everybody.
"We are connecting every business and every country," he said.
But going big overseas is not exclusive to titans like Alibaba.
Musical.ly, a video social network app created by two young Chinese entrepreneurs, has become a hit among teenagers in the United States.
In 2016, Musical.ly was the most downloaded app in the iOS App Store in the United States. It now boasts a monthly active user number of 60 million.
The app allows users to record short videos set to music, share with friends and make movie clips with a few simple steps. Fans of Musical.ly call themselves "musers."
Henry M. Paulson Jr., founder and chairman of the Paulson Institute, said China now leads the world on many technological fronts. Chinese companies have made huge strides in innovation, which is positive not just for China but also the rest of the world. The United States, in some aspects, has fallen behind.
"Before the 1500s, the Chinese invented so many things," said Upside Travel CEO Jay Walker. "The good news is the Chinese are back. They are among the most innovative people in the world's history."