"China is the biggest market in many different areas, and for us, the number one attraction is the quality of people," remarked Tim Cook, CEO of Apple, at the 2017 Fortune Global Forum.
Cook's experience in China is quite rich, spanning over a quarter of a century, during which the country became much more open and modern. And Apple has been a winner so far in the Chinese market, despite headwinds and speed bumps.
At the moment, China plays a leading position in many different areas, Cook said in a discussion with Fortune's executive editor Adam Lashinsky.
China has extraordinary engineering skills and the country's manufacturing has also advanced, Cook noted.
China has stopped being a low labor country many years ago, he noted, adding that Apple entered China because of the advancement of people's skills.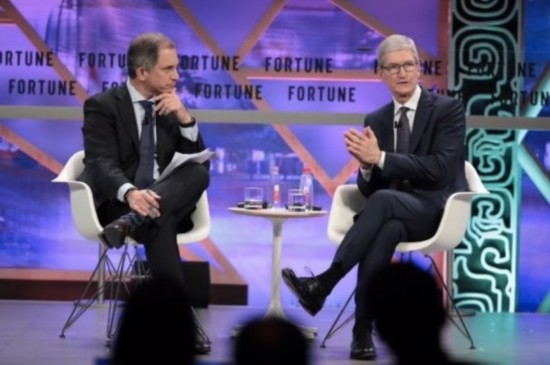 Tim Cook, CEO of Apple at the 2017 Fortune Global Forum /CGTN Photo
Talking about Apple's operations in China, Cook said the company holds 15 percent of the country's smartphone market, but noted that the focus is to produce the best products.
He also noted that there are two million app developers in China who are contributing to the app store, and "these are inspiring entrepreneurs."
Cook also attempted to set the record straight about the misconception that Apple products are "designed in California, and manufactured in China."
"The truth is the process engineering and process developments that are associated with our products require innovation itself, not only on the products the way it is made."
Cook also elaborated on the concept of humanity within the realm of technology, which he touched upon a couple of days ago at the fourth World Internet Conference.
He said Apple stands at the intersection of technology and liberal arts, with users at the center. He maintained that a great user experience should be the focus, and noted that in a world where tech can do anything, developers should put humanity at the center of their creations.