The boom in marathons in Chinese cities in recent years has drawn a large number of African runners, many of whom receive prize money, the Beijing Youth Daily reported.
Figures show that around 500 marathons were held in China in 2017, while that number was only 134 in 2015.
For most enthusiastic Chinese runners, the race is about participation. However, for those who fly from Africa to compete, winning does matter.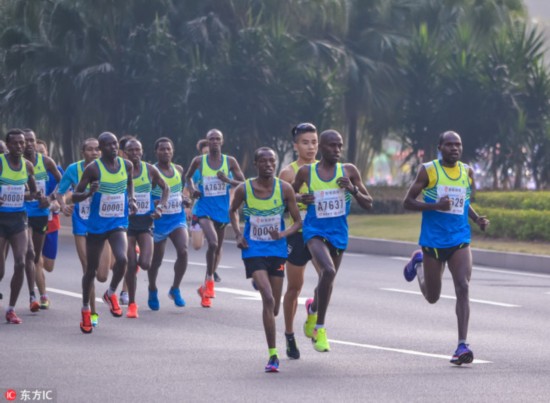 African runners lead an international marathon race in Shenzhen, Guangdong Province, on December 18, 2016. [File photo: IC]
For many gifted marathoners from Kenya and Ethiopia, running is a way to improve their living standard and even change their lives.
A marathon winner in China can receive 10,000 yuan (around 1,513 U.S. dollars) in prize money, three to four times the average monthly salary in Kenya.
An outstanding marathoner may earn 100,000 U.S. dollars a year, which is enough to buy a 250-square-meter piece of land back in Kenya.
Ethiopian runner Amoni has competed in China, winning a total of 48,000 yuan (around 7,268 U.S. dollars) in prize money for three wins, a third and fifth place in five races in just one month.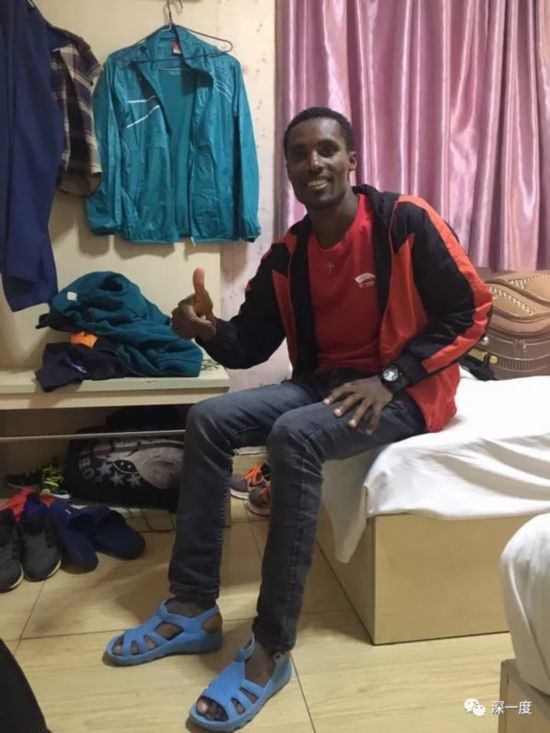 Ethiopian runner Amoni stays at a hotel when he participates in marathons in China. [Photo: Beijing Youth Daily]
Josphat, a 36-year-old Kenyan, has won 20,000 yuan (around 3,028 U.S. dollars) in prize money in two international marathons held in east China's provinces of Zhejiang and Anhui on November 12 and 18, respectively.
Josphat used to run marathons in Europe, but now he finds more opportunities in China.
"China has a lot of races; Europe doesn't," Josphat explained about the reason he came to China, "If you like, you can run a race a week."
Josphat added that it is easier to win a Chinese marathon, but competition in Europe is fierce. "Running a 2-hour-10-minute time can take first place in China, but that would only get fifth in Europe without any cash prize," he said.