RYB Education accused of using needles, drugs on kids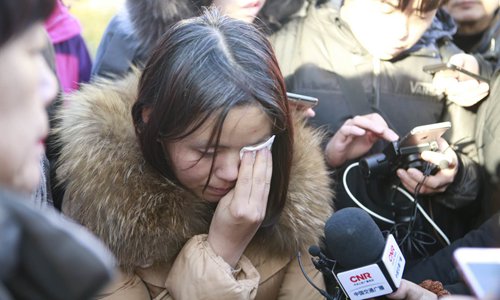 A woman breaks into tears while telling reporters how her child was allegedly abused in a RYB Education kindergarten in Beijing. Photo: Li Hao/GT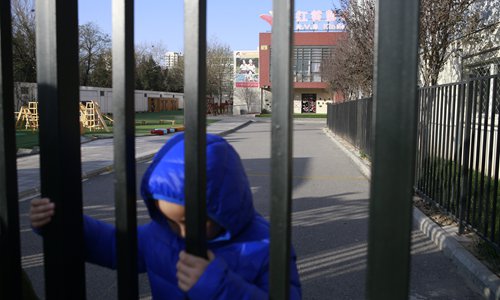 A child waits for his parents to pick him up from the kindergarten on Thursday. Photo: Li Hao/GT
Three teachers from a Beijing private kindergarten, accused of abusing children with needles and drugs, have been suspended, a local education official said Thursday.
Other teachers will replace the three teachers at the RYB Education kindergarten in Beijing's Chaoyang district, an unnamed official from Chaoyang district's education commission was quoted as saying by the Beijing Youth Daily.
Furious parents have been protesting outside the kindergarten and demanding to see the school's head, as well as insisting on viewing a surveillance video because they suspect the kindergarten has been abusing their children.
A man surnamed Wu, who claims to be an employee at the education commission, told reporters gathered outside the kindergarten that police have stayed in the kindergarten to investigate since Wednesday, and have invited dermatology doctors to gather evidence.
However, the police have not reached a conclusion, Wu said.
The surveillance footage at the kindergarten has been given to the police, Beijing Youth Daily reported.
Dozens of parents said on Wednesday that their children were pricked with needles and drugged with unknown types of pills.
"My child is only three-and-a-half years, and I found needle marks on his thighs and buttocks. I am trembling with anger now," a parent was quoted as saying by the Beijing News.
Aside from the needle marks, some parents said their children refused to go to kindergarten because the teachers were feeding them pills. "I ate it…the teacher fed us…to sleep…other children also took them everyday…," a child said in a video the parent provided to the Beijing News.
A woman who claims to be a victim child's mother said through a widely circulated video that her 3-year-old child, Tongtong, together with other children, had been given physical examinations by some "uncle and grandpa doctors," with one of the "doctors" allegedly being naked.
The physical exams were conducted in a "little dark room," and the child and other minors were sent there to observe the "scene" for "obedience training," the mother said.
Two check-ups took place in Tongtong's two months' stay in the kindergarten, according to the mother.
However, Cui Lijun, brand director of RYB Education kindergarten, said that so far, there is no evidence to support the parents' claim, and an employee from the kindergarten said the teachers are qualified, the People's Daily reported.
The case has sparked heated discussions on social media and is one of several cases of children being abused at day-care centers or kindergartens.
The RYB Education was founded in China in 1998, and the kindergarten in Chaoyang is among its more than 1,800 kindergartens and care centers across more than 300 cities.
"Private funds have been flowing into the booming preschool education industry in China. Unlike preschools established with public funding, private-funded ones tend to expand their scale and add branches swiftly to fully profit from the education industry," said Wu Yue, a Beijing-based education expert.
In the process, qualification checks on faculty are poor, and there is no direct authority to supervise them, which contributes to the rising number of child abuse cases across the country, Wu added.
China's Ministry of Educationhas ordered relevant departments to open a special probe into such incidents on Thursday, urging education departments at all levels to take effective measures to prevent similar incidents in the future.
Shares of the New York-listed RYB Education company fell by 3.68 percent to $26.71 at the close of the market on Wednesday. The US markets are closed Thursday for Thanksgiving.
The company, which describes itself as a provider of early childhood education services in China, raised $102 million by offering 5.5 million shares at $18.50 in September, nasdaq.com said.