China is "pleased to see" Japan's enthusiasm for the Belt and Road Initiative, Chinese Foreign Ministry spokesperson Lu Kang said.
The Belt and Road Initiative is an international public product offered by China to promote development and cooperation, Lu told a regular press briefing on Tuesday, adding that it has been an open and inclusive platform from the beginning.
He was responding to Japanese Foreign Minister Taro Kono's praise of the infrastructural and trade development initiative during a speech last Saturday. Kono said the initiative would be very beneficial to the global economy if it is open and available to all.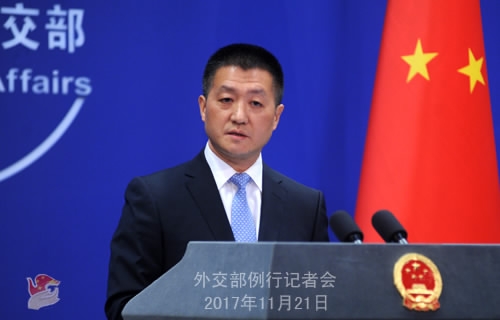 Chinese Foreign Ministry spokesman Lu Kang speaks at a press briefing in Beijing on November 21. /Photo via Chinese Foreign Ministry
China, Lu said, is committed to the principle of achieving shared growth through discussion and collaboration in pursuing the Belt and Road.
He noted that the prorject will not only facilitate China's opening-up and development, but also create greater opportunities for Japan and other countries as well as the world economy.
Proposed by Chinese President Xi Jinping in 2013, the Belt and Road Initiative comprises the Silk Road Economic Belt and the 21st Century Maritime Silk Road, which aims to build trade and infrastructure networks connecting Asia with Europe and Africa on and beyond the ancient Silk Road routes.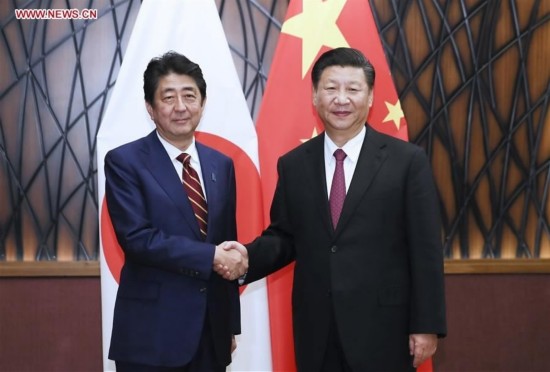 Chinese President Xi Jinping (R) shakes hands with Japanese Prime Minister Shinzo Abe during the 25th Asia-Pacific Economic Cooperation Economic (APEC) Leaders' Meeting in Da Nang, Vietnam, November 11. /Xinhua Photo
Warmer China-Japan ties
Bilateral relations between China and Japan have shown signs of improvement over the past months, as the two countries celebrate the 45th anniversary of the normalization of their ties this year and the 40th anniversary of the signing of the China-Japan Treaty of Peace and Friendship in 2018.
President Xi and Chinese Premier Li Keqiang held talks with Japanese Prime Minister Shinzo Abe earlier this month on the sidelines of two international meetings. Both sides expressed a desire to expand cooperation within the framework of the Belt and Road Initiative.
A record 250-strong delegation of Japanese business and entrepreneurial heavyweights kicked off their annual visit to China on Monday, with the initiative high on their agenda.
Japanese media said the country's private sector is increasingly keen on the initiative and the Japanese Chamber of Commerce and Industry in China has set up a committee to gather information on it.
During his meeting with the Japanese business delegation on Tuesday, the Chinese premier called on the two countries to cherish the trend of improvement in bilateral ties and enhance economic and trade cooperation.
China and Japan should view each other's development as opportunities and contribute to the building of an East Asian economic community, Li said.
The Japanese delegates said they hope economic cooperation will benefit both sides as well as Asia and the rest of the world.