Chinese Premier Li Keqiang is on a five-day visit to the Philippines for an official visit and series of ASEAN meetings. It would be the first time in 10 years that a Chinese premier visits the country and the first foreign trip of Li since the 19th National Congress of the Communist Party of China (CPC) in October.
"The China-Philippines relationship is now seeing a rainbow after the storm and showing a good momentum across the board," Premier Li described in a signed article published in The Philippine Star.
China-Philippines ties have experienced twists and turns since the two countries established diplomatic relations in 1975, and almost reached a breaking point in July last year over an arbitration ruling of the South China Sea. However, soon after winning the Philippine presidential election last year, President Rodrigo Duterte looked to cool down tensions with China, and signs show that bilateral ties are developing in good momentum.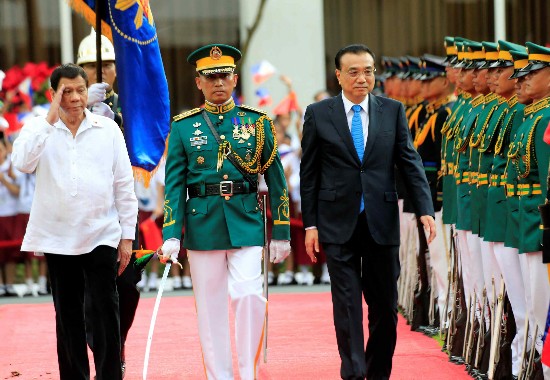 Philippine President Rodrigo Duterte salutes with Chinese Premier Li Keqiang as they review honor guards upon Li's arrival, Malacanang presidential palace in Manila, the Philippines, November 15, 2017. /Reuters Photo
Frequent exchanges at all levels
China and the Philippines have witnessed closer high-level exchanges and growing interactions at all levels.
Duterte's "milestone visit" to China in October last year surprised many around the world. The leaders of the two countries held historic meetings and agreed that disputes in the South China Sea were not the sum total of relations, and that the two countries would enhance cooperation in trade, infrastructure and drug control.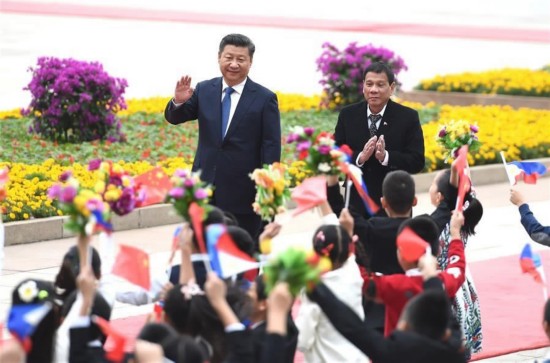 Chinese President Xi Jinping holds a welcome ceremony for visiting Philippine President Rodrigo Duterte before their talks in Beijing, October 20, 2016. /Xinhua Photo
Important consensus was further made by Xi and Duterte in May this year on solidifying and deepening bilateral relations when Duterte visited China for the Belt and Road Forum for International Cooperation.
The two met again in Vietnam's Da Nang on the sidelines of the Asia-Pacific Economic Cooperation Economic Leaders' Meeting last week. During the meeting, Xi said relations between the two countries stand on a new starting point, adding that they should enhance high-level exchanges, so as to ensure the development of bilateral relations on a right track.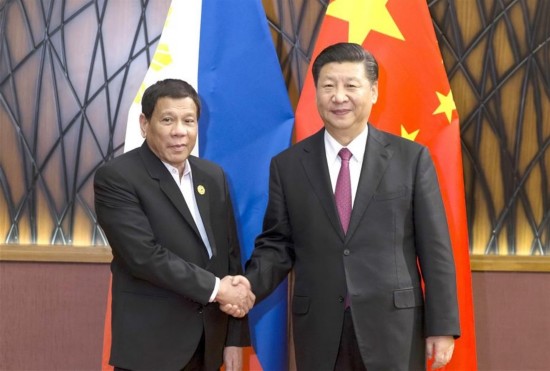 Chinese President Xi Jinping (R) meets with Philippine President Rodrigo Duterte in Da Nang, Vietnam, November 11, 2017. /Xinhua Photo
"Such common understanding at the top level has charted the course and instilled a strong impetus into our bilateral relations," said Li in the article.
The two countries have also witnessed closer people-to-people exchanges.
In the first seven months of this year, Chinese tourist arrivals in the Philippines reached 450,000, an increase of 33.44 percent from last year.
In August, the Philippines began to issue landing visas to Chinese nationals who wish to join tour groups and business people. In the next few years, China is expected to become the largest source of tourists to the Philippines, said Xinhua News Agency.
Beijing and Manila have also been helping friends for each other in front of natural disasters.
In February, the Philippines was hit by a 6.7-magnitude earthquake, and China immediately offered humanitarian assistance. In June, China's Sichuan Province suffered a devastating landslide, the Philippines also offered aid to assist the victims.
Since the military conflict broke out in the Philippine city of Marawi in May, China has offered weapons, ammunition and humanitarian assistance to support the Philippine's anti-terrorism struggle. Aside from engineering equipment that already arrived in the Philippines, Li announced on Wednesday that China will donate 150 million yuan (22.65 million US dollars) for the rehabilitation of Marawi city in addition to the 11 million yuan (1.66 million dollars) worth of assistance previously donated.
Booming economic ties
Since October last year, the two sides have signed over 20 cooperation documents at the governmental or departmental levels and identified a number of priority infrastructure projects.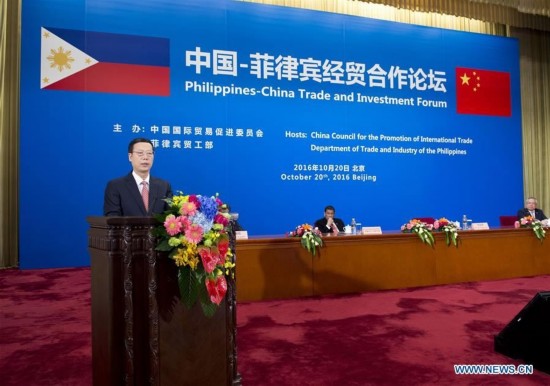 Chinese Vice Premier Zhang Gaoli (L) and Philippine President Rodrigo Duterte jointly attend the China-Philippines Trade and Investment Forum in Beijing, capital of China, October 20, 2016. /Xinhua Photo
The first 10 months of this year saw China become the Philippines' biggest trading partner, on the back of a surge in Philippine exports to China. Between October last year and the end of June this year, China imported 420,000 tons of tropical fruits from the Philippines worth over 200 million US dollars, said Li, adding that "Your bananas, durians and avocados are increasingly popular in China."
Since taking office, Duterte proposed the 10-Point Socioeconomic Agenda and "Build, Build, Build" program. During an interview with Xinhua, Duterte said the Philippine government's infrastructure construction plan is highly compatible with China's Belt and Road Initiative, thus enjoying bright cooperation prospects.
Progress made on the South China Sea issue
This year China has maintained close contact with ASEAN countries in consultations on the Code of Conduct (COC) in the South China Sea, and significant progress has been made.
In May, a COC framework was agreed upon during a senior officials' meeting on the implementation of the Declaration on the Conduct of the Parties in the South China Sea (DOC) in Guiyang, southwest China's Guizhou Province.
The framework was adopted in August by a meeting of ASEAN and Chinese foreign ministers.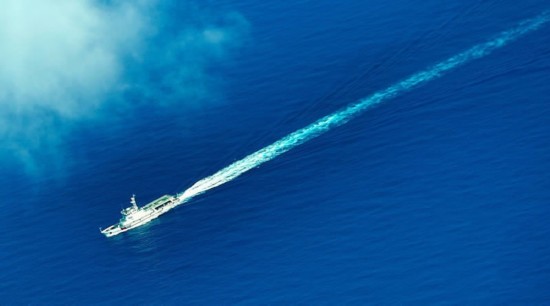 An aerial photo of Hainan Maritime Safety Administration taken on September 25, 2015 from a seaplane shows cruise vessel Haixun 1103 heading to the Yacheng 13-1 drilling rig during a patrol in the South China Sea. /Xinhua Phot
Premier Li said at the 20th China-ASEAN leaders' meeting on Monday that China and ASEAN will start consultations on the text of the COC.
"It fully represents the common will of regional countries that they should properly handle differences through dialogues and negotiations, and safeguard peace and stability in the South China Sea," said Li.
"It also shows the confidence, wisdom, and capacity of the regional countries to properly settle the South China Sea issue in order to make it a sea of peace, friendship and cooperation."
Looking to the future
The improvement and growth of the China-Philippines relations have support from the people as it also support and serve their well-being, said the Chinese premier. Looking to the future, Premier Li said Beijing is ready to work with Manila to open a new chapter for China-Philippines relations.
"Looking ahead, we are fully confident about the prospects of our relations," said Li.
"The Chinese people want to be the Philippine people's sincere friend, close neighbor helping each other through difficulties, steadfast partner forging ahead hand in hand and good brother for generations to come. Let's work together to open a new chapter for China-Philippines relations," he concluded.