Zimbabwe's military said it had launched an operation to "target criminals" around President Robert Mugabe on Wednesday, but insisted that the 93-year-old president and his family were "safe and sound."
AP reported that although it was not clear where Mugabe and his wife Grace were, an army statement that their "security is guaranteed" indicated they were in the custody of the military.
Other reports suggest Mugabe has been detained and could be replaced by former vice president Emmerson Mnangagwa, the man he sacked on November 6.
If confirmed, Mugabe would step down from power after 37 years as Zimbabwe's leader.
Military operation
Arrests are understood to have been made early on Wednesday, while explosions and gunfire were reported in the capital city Harare.
"It is not a military takeover of government," said an army official at a live TV address. "We wish to assure the nation that his excellency the president... and his family are safe and sound and their security is guaranteed."
"We are only targeting criminals around him who are committing crimes... As soon as we have accomplished our mission we expect that the situation will return to normalcy."
The opposition MDC party called for a peaceful and constitutional process to take place.
Finance minister 'arrested'
Finance Minister Ignatius Chombo was one of the individuals detained on Wednesday, a government source told Reuters.
Chombo was a leading member of the "G40" group in the ruling Zanu-PF party, led by Mugabe's wife Grace.
A power struggle between Zanu-PF factions – independence era veterans and the "G40" group – is thought to have destabilized the party.
Gunfire and explosions
Gunfire was reported near Mugabe's private residence in Harare and explosions were heard in the city in the hours before the military's live TV address.
"From the direction of his house, we heard about 30 or 40 shots fired over three or four minutes soon after 2:00 a.m.," AFP quoted witnesses close to Mugabe's compound as saying.
At least three explosions have been reported across Harare.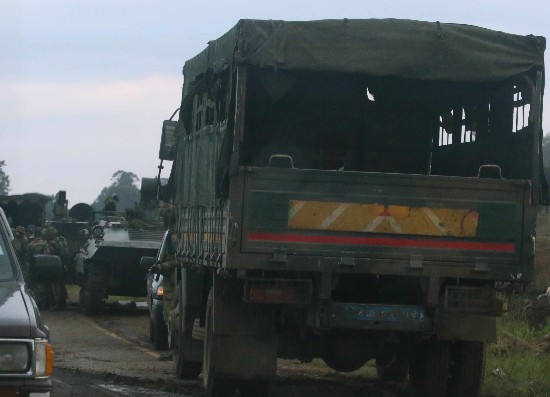 Military vehicles outside Harare, Zimbabwe on November 14, 2017. /Reuters Photo
Armored vehicles were deployed to the streets of the city, and troops seized control of the state broadcaster, Zimbabwe Broadcasting Corporation (ZBC).
Chinese nationals told to stay indoors
The Chinese embassy in Zimbabwe has advised its citizens to remain at home and not to take part in unnecessary outdoor activities.
The US embassy has warned its nationals to "shelter" amid uncertainty and wait for further notice, according to its website.
The UK has issued a warning for its citizens in the country to stay indoors amid reports of "unusual military activity."
Zimbabwe army chief accused of 'treasonable conduct'
Political tensions had risen in the country since November 6, when Mugabe fired Emmerson Mnangagwa as vice president, accusing him of showing "traits of disloyalty" and plotting to take power.
Zimbabwe's Commander of Defense Forces General Constantino Chiwenga said on Monday he was prepared to "step in" to end a purge of supporters of the sacked vice president.
In response on Tuesday, Zimbabwe's ruling party accused the military chief of "treasonable conduct" for challenging its president.