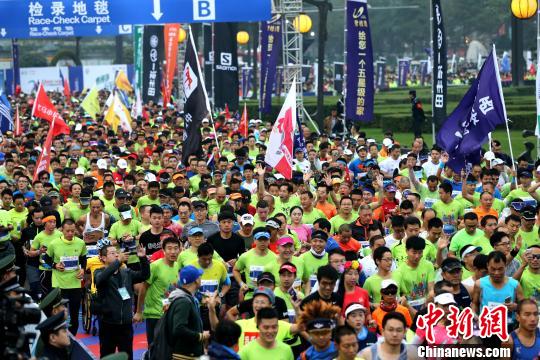 (Photo/Chinanews.com)
XI'AN, China, Oct. 28 (Xinhua) -- Alemayehu Lema from Ethiopia became the first champion of 2017 Xi'an International Marathon here on Saturday, while Khishigsaikhan Galbadrakh from Mongolia claimed the title in women's race.
It is the first regular marathon event in Xi'an, Shaanxi Province, which is one of four ancient capital cities in the world. A total of 20,000 runners, from 26 countries and regions, attended the event which started at 7:30 a.m. under the 600-year-old Yongning Gate (the south gate) and 6000 of them challenged themselves in full marathon.
Alemayehu Lema from Ethiopia, clocked 2:16:02 to win the 1st edition of Xi'an International Marathon. Lhoussaine Oukhrid of Morocco trailed in 2:16:15, while Qiu Wangdong made the best record among native runners who finished third in 2:20:58.
"The trail makes us easy to create a personal best record and I did it," said Qiu Wangdong, a student studying in Northwest Normal University.
In the women's race, Mongolia's runner Khishigsaikhan Galbadrakh claimed the title in 2:37:10. Kenya's Priscila Kipruto and Sarah Lagat placed second and third respectively.
To feature the ancient cultural in Xi'an, there are many relics and attractions along the race route, such as Qin Er Shi Mausoleum of Qin Dynasty, Daming Gong Palace of Tang Dynasty and Bell Tower of Ming Dynasty.
"I've been waiting for a long time to run marathon at home. It's fantastic! I bet attendants from all over the world will be amazed by the view of modern buildings and ancient relics," said Lou Zhixuan, a Xi'an citizen.