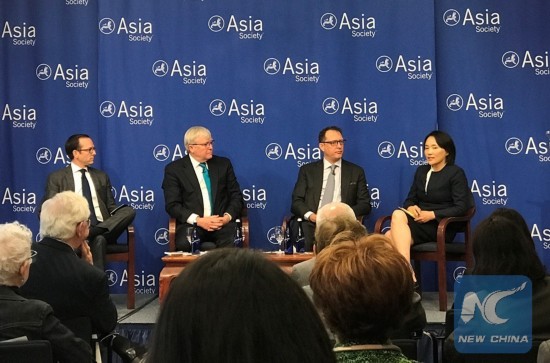 Daniel Rosen (second from right), founding partner of Rhodium Group, is in a dialogue session at a forum at Asia Society in New York on Oct. 3, 2017. (Xinhua/Xu Xingtang)
NEW YORK, Oct. 4 (Xinhua) -- A close China watcher said here Tuesday that if China keeps its current pace in innovative industrial development, the innovative activity share in its total output will likely surpass that of the United Statesin about 18 months.
Daniel Rosen, founding partner of Rhodium Group, said at a forum at Asia Society that in the second quarter of 2012, innovation accounted for 30 percent of total Chinese output, while today the share has come up to around 34 percent.
"It seems like a small difference, but was in fact very significant," he said.
The innovative industry share in industrial value-added of the United States has been stable at about 34.5 percent over the past few years, while that of European Unionand Japanstand at roughly 37 percent and 47 percent, respectively.
The study comes from an interactive online dashboard called The China Dashboard: Tracking China's Economic Reform Program, a newly designed program by Asia Society Policy Institute and Rhodium Group that assesses the ongoing impact of economic reforms on Chinese growth potential.
Next week the dashboard will be made live, and an analysis of the data in the 10 areas will be published, which range from fiscal policy to domestic financial system reform to cross-border investment reform, Rosen said.
He previewed the dashboard and chose innovation as an example of the 10 areas that the program tracks, noting that China's innovative activities have been increasing fast, especially over the past two years.
The analysis will look at the details of the growth rate of this innovative share to find out if it is really sustainable, or if it is just a cycle that might come down and need a longer time to get to the U.S. levels. There is also discussion of could something go wrong, it could permanently impair China's progress toward that innovation share of the economy, he said.
He compared some of China's critical economic indicators in 2000 and 2015 to show its share growth in global economy. For example, in 2000, China accounted for about 3.9 percent and 3.4 percent of global exports and global imports. In 2015, they rose to the vicinity of 14 percent and 10 percent, respectively. More shocking is China's outbound investment, which rose from 0.1 percent of the global outbound flows in 2000 to just shy of 9 percent in 2015.
He stressed that as a nation of about 1.4 billion people and about 12 trillion U.S. dollars of economic activity, China's economic policy reforms in the coming years will have massive consequences and implications not only for China itself, but also for the world as a whole.