(Jacquline Jacques, a model from Brazil living in Beijing, puts on Victoria's Secret-style lingerie and wing for a real estate promotion event in Beijing. Photo: Courtesy of Jacquline Jacques)
Jacqueline Jacques, a female model from Brazil, has walked in at least 50 "Victoria's Secret" fashion shows since arriving in Beijing at the end of 2012.
"I wear different sorts of lingerie and bikini, and carry exquisite wings. I am an angel," Jacques said.
"I didn't get the chance to perform at the original Victoria's Secret fashion shows in the US, but so what, I walked at plenty of those shows in China," Jacques joked.
In November, the Victoria's Secret fashion show will come to China for the first time, taking place at Shanghai's Mercedes-Benz Arenas. Sixty-one top-notch models from around the world have already confirmed to attend the show, including supermodels Adriana, Alessandra and Candice.
However, long before the real Victoria's Secret actually debuts in China, Chinese knock-offs of the show have already flooded the country.
Countless Victoria's Secret-style lingerie shows in which models wear lingeries and different accessories such as wings have been held at different kinds of events, including sales promotions and companies' annual meetings.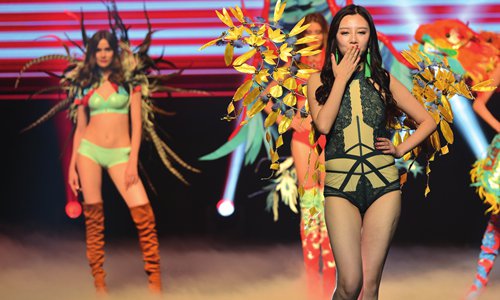 (Chinese knock-offs of Victoria's Secret show have been very popular in China for promotional events or company meetings. Photo: VCG)
It's not about underwear
The reason Jacques came to China in the first place was for a knock-off Victoria's Secret show.
A club in Beijing was holding an opening event. In order to attract customers, they hired a group of foreign models for a Victoria's Secret-themed lingerie show, and Jacques was one of them. Since then, she has been based in Beijing.
"The knock-off Victoria's Secret shows are really popular in China. I have done a lot of them, practically in every part, every province of China," Jacques said.
"A foreign model friend of mine has even done such a show in the Tibet Autonomous Region," she said.
"Almost every model I know in China, foreign and Chinese, have done plenty of Chinese knock-off Victoria's Secret shows before," said Max Liu, founder and CEO of Fun Models, an online platform for booking professional models in China.
Fabulous though they are, the knock-offs are fundamentally different from the original one because of their purpose.
"The difference is the purpose. Chinese knock-offs are not about the underwear we are wearing, but about entertaining the public or attracting them to come to a promotion event," Jacques said.
"In China, the shows are mostly hosted at real estate marketing events, enterprise dinners, and shopping malls; only a few are for Chinese underwear brands," Jacques said. "I think it is pretty weird to have an underwear show during dinner, but apparently Chinese people like it. I think they just want to make the event look fancier and more amusing."
Liu, the modeling agent, agrees with Jacques' opinion.
"The original Victoria's Secret show is elegantly orchestrated, and it's about underwear and that year's fashion trend," Liu said. "While China's knock-offs are mainly for entertainment and getting people's attention. The quality of knock-offs is also very different; some are exquisite, and some are just tacky."
Dream or embarrassment?
Although the knock-offs copy the gear and fomula of the Victoria's Secret, they don't have the same meaning.
"The real Victoria's Secret show is a dream to me," Jacques sighed. "My idol is Alessandro, the Victoria's Secret angel who is from the same country as me."
"Walking in a Victoria's Secret show represents the peak of one's modeling career; it would bring modeling to a new level," Jacques said.
"The knock-off shows in China do not have that kind of effect," Jacques said. "I wish I could walk in a real one someday. I heard the real Victoria's Secret is coming to Shanghai soon, and I am wondering if I can join the contest to be a model there."
However, Jacques did admit that it's quite enjoyable to perform in such shows in China.
"The audience in China are very nice. They behave respectfully with the models, and they look at me like they are looking at some famous stars - it's really exciting and happy," she said.
However, in some cases, the shows turned into vulgarity, and caused controversy about whether it was appropriate to host a lingerie show to catch eyeballs.
Li Bing (pseudonym), a 20-year-old girl, took part in a knock-off Victoria's Secret show a year ago.
It was for promoting a high-end restaurant. The models were asked to walk around in lingerie and with wings in the restaurant, and then lie down on a table with lobsters on their body.
Li needed the money at the time, so she took the job.
"I was not proud of the experience. It was unprofessional. I wouldn't do such a thing again," Li said.
"I can still remember the customers took food from my body; it was almost pornographic. I cried that night," the girl said.
Another inappropriate use of the Victoria's Secret show happened in August in Chengdu, Sichuan Province, where a shopping mall staged a Victoria's Secret lingerie show featuring little girls.
The event caused an outcry online where netizens condemned the organizer for using sexual images of underage girls, according to a Daily Mail report in August.
"Victoria's Secret is a brand that sells fashion. After all, it's a lingerie brand," Liu said. "Some Chinese people can accept to see models walk around in lingerie on stage now, but if they are presented on the street, or use children as models, people would have difficulty in accepting that," he said.
People from Western countries also took a long time to accept lingerie and bikini models. This kind of shows just came to China, so people still need time to digest, according to Liu.
Is it fair to call it knock-off?
The popularity of knock-off Victoria's Secret shows in China reflects the influence of the brand in China.
"Victoria's Secret is not only a gala combining the lingerie show, fashion and singing performance by pop stars together, it has also become a trademark and a symbol. It's not just about the lingerie, nearly-naked models or wings anymore," Liu said.
Pop stars such as Rihana and Marron who had performed on the shows before played a very important part in building the show and its brand, Liu said.
As an agent in the industry, Liu does not agree with calling the Chinese lingerie shows a Victoria's Secret knock-off.
"Victoria's Secret doesn't own the lingerie show concept," Liu said.
"Lingerie show is a modeling genre, and people from every country can adopt it. It doesn't belong to Victoria's Secret only; it is just like you can't say black people own hip-hop, Chinese people own traditional dance, and no one else can do that," Liu said.
"The lingerie show is still a new thing in China, I think as time goes by, its quality will improve, and China may develop its trademark lingerie shows," he said.