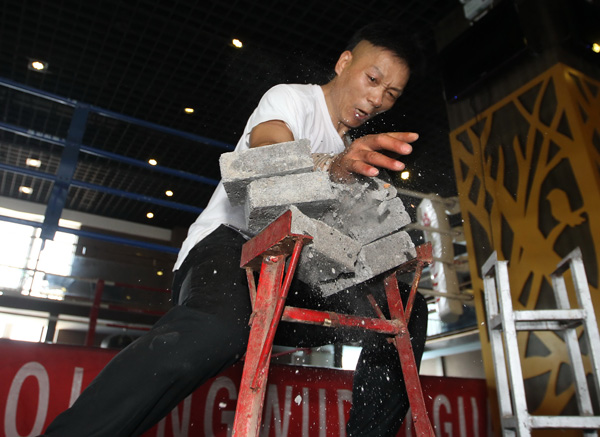 A kung fu practitioner smashes bricks using one hand in Luoyang, Henan province, early this Month. XU JUNWEN/CHINA DAILY
The first "Great Meeting Open to All" will be held at the Shaolin Temple from July 29 to Aug 4 in Dengfeng, Henan province.
The 1,500-year-old temple will welcome kung fu masters and enthusiasts from home and abroad to share their skills and views on kung fu.
Shi Yongxin, the abbot of Shaolin Temple, came up with the idea of holding the "Great Meeting Open to All" in August 2016, said Zou Xiang, website manager for Shaolin Temple.
The meeting welcomes people of any social status and identity who will be treated equally through diverse forms of cultural exchanges, including Chan (Zen Buddhism), martial arts and medicine, Zou said.
The events date back to the late 4th century, according to historical records.
"Besides the martial arts, Chan and medicinal culture are regarded as the essence of Shaolin culture, and the contests involving the traditional 72 Shaolin kung fu arts can also be seen during the seven-day event," Zou said.
In addition, many foreign disciples are welcome to join in events such as the lamp transmission ceremony, and take part in the "Shaolin Temple and the Northern Buddhist" academic seminar.