Ministry urges timely handling of disputes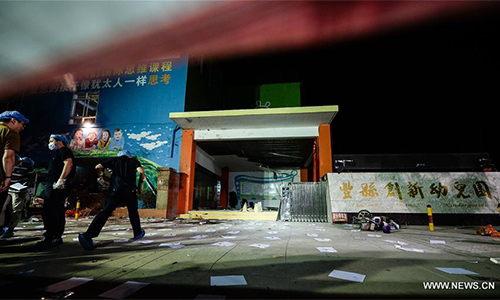 Forensic experts work at the site of the explosion near a kindergarten in Fengxian County in east China's Jiangsu Province, June 16, 2017. At least eight people have died and 66 people were injured after an explosion near a kindergarten in Fengxian County in east China's Jiangsu Province. (Xinhua/Li Xiang)
China's Ministry of EducationFriday issued an urgent circular asking for enhanced safety checks and controls on campus surroundings after eight people were killed and 65 injured in a tragic explosion that happened on Thursday near a kindergarten in East China's Jiangsu Province.
The circular requires educational departments and schools to carry out a comprehensive check on potential safety loopholes in cooperation with various authorities.
The ministry also called for timely handling of disputes related to schools to eliminate potential risks.
The blast took place at around 4:50 pm at the gate of the kindergarten in Fengxian, Xuzhou, when children were leaving school, the Xinhua News Agency reported, citing the Xuzhou emergency office.
Police said on Friday that the suspected perpetrator of the explosion was among the eight people killed in the incident.Police identified on Friday the suspect as a 22-year-old man surnamed Xu, a local resident of Quanshan district, Xuzhou of Jiangsu Province.
Police said they have collected evidence and completed DNA matching tests to prove Xu's identity. They have found materials for making explosives in Xu's rented apartment, where the words "death" and "killing" are seen written on the wall.
Police said Xu was suspended from a school after he was diagnosed with "vegetative nervous function disturbances." He then found work and lived in the rented apartment.
The explosion also left 65 others injured. Sources with hospitals said Friday that among the eight severely injured, four have escaped life-threatening danger.
Xu's motivation behind the explosion was not known as of the press time.
"According to current reports, Xu's anti-social behavior may be due to his failures in solving social and family problems, and he finally resorted to violence to grab public attention," Li Wei, an expert from China Institutes of Contemporary International Relations, told the Global Times on Friday.
Li said that any violence, especially that targeted at children or other vulnerable groups, should be condemned and stopped timely.
"Non-terrorist violence that aimed at taking revenge against the society happens in modern society, including gun shooting cases in the West. All-round efforts, including by the government, society, non-governmental organizations and family members, are needed to spot potential actors and help alleviate the confrontations," Li said.
Moreover, citizens should enhance awareness of security, and schools, especially kindergartens, should strengthen safety measures, Li added.
Many cities, including Beijing, Southwest China's Chongqing, and Guangzhou, capital of South China's Guangdong Province, introduced a stricter security system into schools after five violent cases targeting kindergartens happened within 40 days in 2010.
The security measures included placing more monitors within the school yards, deploying more security staff as well as police dogs and giving lessons on protecting personal security to children and parents, news.sohu.com reported.